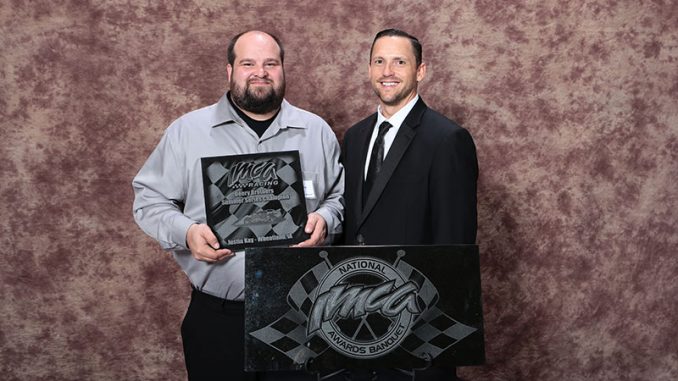 WHEATLAND, Iowa – His fast start and a typically consistent string of top five finishes the rest of the way took Justin Kay to his career third Deery Brothers Summer Series championship.
Kay opened the IMCA Late Model tour with victories at Cedar County Raceway, Maquoketa Speedway and Quad City Speedway. He collected half a dozen top five's, clinching the title by starting the Sept. 21 finale at Davenport Speedway.
"We got off to a really good start and just kept trying to do our best the rest of the way," said the Wheatland, Iowa, driver, also champion of the 2014 and 2015 series.
Also the winner of the last Deery event in 2017, he matched the series record of four straight victories shared by Gary Webb, Rob Toland and Brian Harris with the May 6 checkers at East Moline.
"We had to pass a lot of cars that night. It didn't look good for us at the beginning of the race but we kept at it and won." said Kay, who had started 24th after cutting a tire in his heat and then restarted at the back after changing a flat midway through the 50-lap main event.
"There were a couple other nights when we might have had the car to win with but we stayed smart and raced for points," he added. "We got to race at some new tracks this year and that was fun."
He's now tied for third on the all-time Deery Series list with 27 wins.
Kay picked up a few Modified dates with Matt Ryan and credited Al Dlouhy with helping him get the Late Model back on track again.
"After I crashed and bent the car up pretty good, Al is the one who got it back in one piece," he said. "Without guys like that around, racing is hard to do."
Wins-3 Top Five Finishes-9 Starts-11
HIS CREW: Parents and car owners Ricky and Brenda Kay, Scott Fitzpatrick, Tyler Madigan, Wyatt Pewe, Zach Frields and Al Dlouhy.
HIS SPONSORS: Kay Farms and Elevator, JMR S & J Motorsports, Petersen Insurance, Wheatland Auto Body, JR's Place Bar & Grill and HeineeJo's Bar & Grill, all of Wheatland; Nutrien of Wyoming; Hoker Trucking of Dixon; Doug Nigh's RPMS of Maquoketa; Allstar Performance of Watervliet, Mich.; Performance Bodies of Cedar Falls; ML Suspension of Mooresville, N.C.; Sweet Manufacturing of Kalamazoo, Mich.; Wilwood of Camarillo, Calif.; Eibach Springs of Corona, Calif.; Wehrs Machine and Racing Products of Bangor, Wis.; Chase Race Decals of Ames; Callies Crankshafts of Fostoria, Ohio; DMI/Bulldog Rear Ends of Lancaster, Pa.; and Dynamic Drivelines and Karl Performance, both of Des Moines.