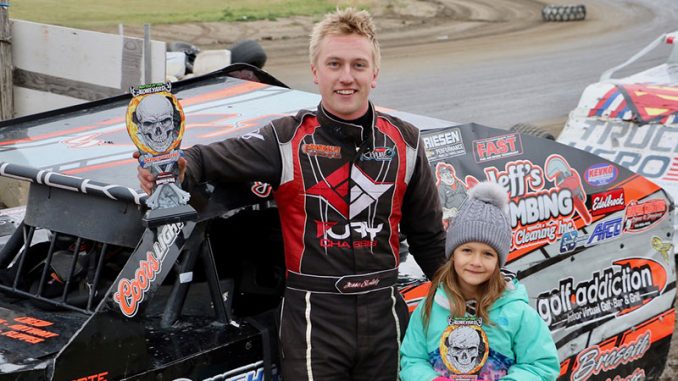 LISBON, N.D. (Sept. 30) – Jesse Skalicky wrapped up his IMCA Modified rookie campaign with a flag-to-flag run at the front of Sunday's Battle at the Boneyard field at Sheyenne Speedway.
The victory was Skalicky's third of the season. He had the fastest car on the higher line in the se­cond set of turns and took the checkers ahead of John Nord and Zach Dockter.
"We're really satisfied with this year. We knew there would be a big learning curve but hoped we could finish consistently in the top 10," Skalicky said. "This was our fourth year with a Fury (Chas­sis) so I was confident getting into the Modifieds."
He was a regular at Red River Valley Speedway, Norman County Raceway and Buffalo River Race Park. Skalicky's previous best finish at Lisbon had been second in the July 1 show.
Feature results – 1. Jesse Skalicky; 2. John Nord; 3. Zach Dockter; 4. Billie Christ; 5. Randy Klein; 6. John Corell; 7. Tim Perkins; 8. Rusty Kollman; 9. Randy Gordon; 10. Jarrett Carter; 11. Bryce Borgen; 12. Delray Dykstra; 13. Tyler Peterson.