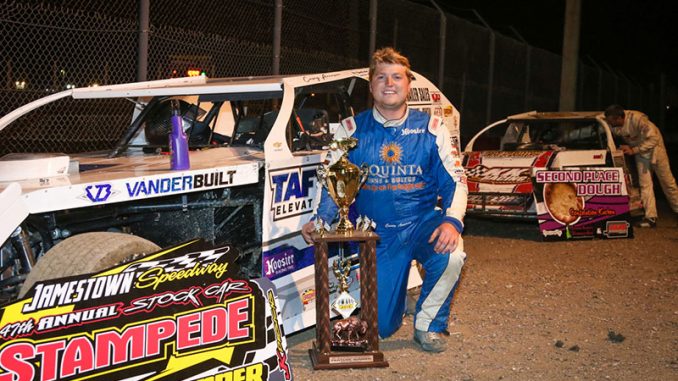 JAMESTOWN, N.D. (Sept. 22) – Numerologists in the grandstand had to enjoy the outcome of IMCA Modified and Karl Chevrolet Northern SportMod main events Saturday at Jamestown Speedway's Stampede.
Casey Arneson, driving the number 2 car, topped the $2,000 to win Modified main event while Luke Krogh rode the number 47 Northern SportMod entry to the winner's circle at the 47th annual event.
Arneson had top-three finishes in two previous starts at Jamestown. He caught Dave Shipley for the lead on the 10th of 25 circuits and then outran Allen Kent in the race for the Fast Shafts All-Star Invitational ballot qualifying checkers.
"It was pretty surreal. I've never dreamed of being able to do this," he said. "My car is number 2, it was Sept. 22 and the only time I looked at a clock during the day, it was 2:22. And I drew two.
Shipley, Trent Grager and Dale Mathison completed the top five.
Krogh started from the pole put was but back to third after track officials ruled he jumped the initial start.
He had the lead back halfway through the 20-lap contest, used slower traffic to his advantage and stayed in front to the $1,000 win.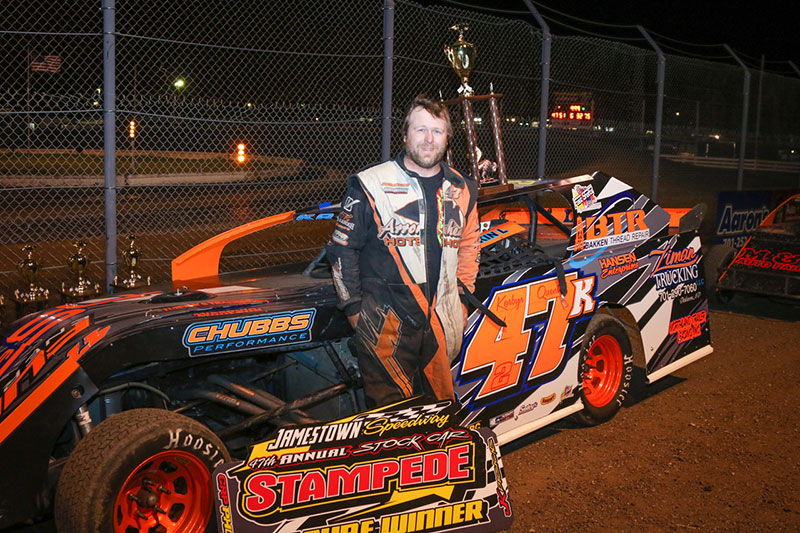 "Last year I won my heat, started outside pole and had no luck," said Krogh, ninth when the division made its Stampede debut in 2017. "We had pretty dang good results this year."
"I'm pretty lucky that I'll have my name on the sweatshirt next year," he added. "That's a big deal."
Kelly Jacobson, defending race winner Robby Rosselli, Chad Strachen and Justin Medler were next across the stripe.
Feature Results
Modifieds – 1. Casey Arneson; 2. Allen Kent; 3. Dave Shipley; 4. Trent Grager; 5. Dale Mathison; 6. John Corell; 7. Marlyn Seidler; 8. Tracy Domagala; 9. Robert Hellebust; 10. Dylan Goplen; 11. Josh Eberhardt; 12. John Nord; 13. Eric Edwards; 14. Quentin Kinzley; 15. Jeremy Keller; 16. Tim Thomas; 17. Jarrett Carter; 18. Travis Ulmer; 19. Wayne Johnson; 20. Rusty Kollman; 21. Jeremy Forester; 22. Travis Davis; 23. Jamie Trautner; 24. Randy Klein. 
Northern SportMods – 1. Luke Krogh; 2. Kelly Jacobson; 3. Robby Rosselli; 4. Chad Strachen; 5. Justin Medler; 6. David Siercks; 7. Dan Dowling; 8. Philip Keller; 9. Ryan Restad; 10. Kevin Eklund; 11. Reile Sailer; 12. Zach Frederick; 13. Josh Carson; 14. Kyle Krogh; 15. Matthew Clark; 16. Brennan Urbach; 17. Joshua Moulton; 18. Chris VanMil; 19. Taylor Grove; 20. Kyle Keller; 21. Billy Michaelsohn; 22. Scott Jacobson; 23. Brian Schaffer; 24. Evan Morast; 25. Brandon Tendeland.