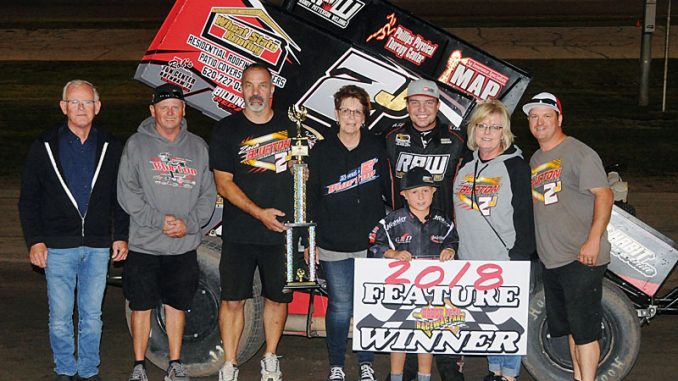 By Lonnie Wheatley
DODGE CITY, Kan. (Sept. 15) – Zach Blurton captured his second career Jerry Soderberg Memo­rial Championship event win atop the 3/8-mile Dodge City Raceway Park by wiring the field in Saturday night's 25-lap DCRP Sprint Cars vs. United Rebel Sprint Series feature event.
Blurton gunned into the lead from the pole position at the outset and led all the way, slicing through heavy traffic over the final half of the race for his lone Dodge City win of the year.
"The car was perfect, I could put it anywhere and it would work," Blurton said of the No. 2J entry.
"This one is special, it means a lot to me," Blurton said after adding the Soderberg Memorial vic­tory to the inaugural triumph in 2013.  "I'm family with the Soderberg now and I wasn't the first time."
Following the race's only caution after four laps, Blurton opened up a half-straightaway advantage in short order over Luke Cranston and Jake Martens with the latter working his way into second by the seventh round.
Blurton soon entered lapped traffic but maintained his advantage until encountering a cluster of cars with eight laps to go that allowed his chasers to temporarily close the gap.
But Blurton worked through the congestion and slipped back out to a half straightaway advantage by the time the checkered flag flew.
In his wake, the battle was heated for position with Martens and Cranston dicing for second through traffic. After climbing from sixth on the 10th round, Ray Seemann entered the mix for run­ner-up honors as well.
DCRP Sprint Car Nationals champion Martens prevailed in the battle for second in Blurton's wake with Cranston rallying back around Seemann to take the show position. Taylor Velasquez rounded out the top five.
Along with Blurton, other winners of the sixth annual Jerry Soderberg Memorial Championship included Brendon Gemmill in the IMCA Modifieds, Dakota Sproul in the IMCA SportMods, Chris Oliver in the IMCA Sunoco Stock Cars and Tathan Burkhart in the IMCA Sunoco Hobby Stocks.
Feature results – 1. Zach Blurton; 2. Jake Martens; 3. Luke Cranston; 4. Ray Seemann; 5. Tay­lor Velasquez; 6. J.D. Johnson; 7. Austin McLean; 8. Steven Richardson; 9. Jeremy Huish; 10. Koby Walters; 11. Jordan Knight; 12. Shane Sundquist; 13. Jed Werner; 14. Brian Herbert; 15. Kris Moore; 16. Tyler Knight; 17. Ross Essenburg; 18. Kevin Schramek; 19. Aaron Ploussard; 20. Kaden Taylor; 21. Chris Douglas.