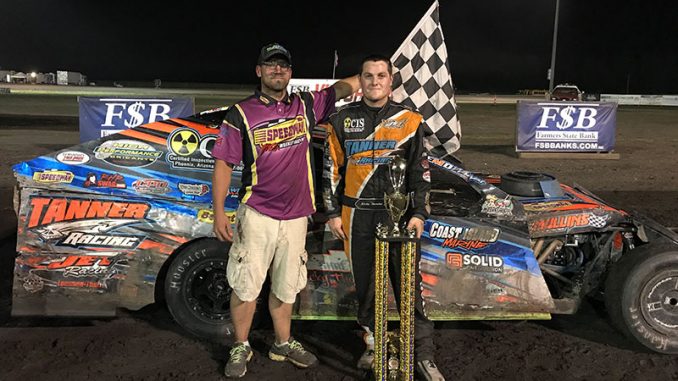 BRITT, Iowa (Aug. 10) – Ricky Thornton Jr. crossed another race off his must-win list Friday at Hancock County Speedway.
Thornton started on the pole and led all 50 laps of the Night of 10,000 Stars main event for IMCA Modifieds. His $8,000 share of the purse included a $1,000 bonus for leading at halfway.
"This is the first time I've ever won at Britt," the new 2019 Fast Shafts All-Star Invitational ballot qualifier said. "If you're going to win your first race at a track, you should do it on a big night like tonight."
Hunter Marriott, winner of Thursday's Night of 1,000 Stars, raced from 14th starting to finish second.
The first half of the race ran caution free. Thornton had five car lengths on the rest of the field when the race was halted for the mandatory pit stop and opted against making any changes to his car during the break.
Two yellows came out early in the second half. Thornton stayed in front, primarily relying on the fast middle line.
"That was pretty much where I ran," he said, "but the car was really good. I could run anywhere I wanted to."
Marriott was closing in but ran out of laps in his bid for a third straight Night of 10,000 Stars crown. 2014 race winner Kyle Strickler, 17th starting Cayden Carter and Benji LaCrosse, winner of the inaugural 2013 event, completed the top five.
Tom Berry Jr. was sixth while Jay Noteboom sped from 24th starting to seventh and Jeremy Mills motored from last starting in the field of 30 to eighth.
Derek Green was the $750 IMCA Sunoco Stock Car winner. Chanse Hollatz and Cody Thompson earned $500 for their IMCA Sunoco Hobby Stock and Karl Chevrolet Northern SportMod victories, respectively.
Feature Results 
Modifieds – 1. Ricky Thornton Jr.; 2. Hunter Marriott; 3. Kyle Strickler; 4. Cayden Carter; 5. Benji LaCrosse; 6. Tom Berry Jr.; 7. Jay Noteboom; 8. Jeremy Mills; 9. Ethan Dotson; 10. Kelly Shryock; 11. Austin Wolf; 12. Nick Meyer; 13. Randy Foote; 14. Tim Ward; 15. Cody Knecht; 16. Ricky Stephan; 17. Troy Swearingen; 18. Brian Mullen; 19. Jeff Aikey; 20. Kyle Brown; 21. Richie Gustin; 22. Jason Wolla; 23. Jason Schneiders; 24. Scott Olson; 25. Josh Long; 26. Ryan Ruter; 27. Tad Reutzel; 28. Corey Dripps; 29. Josh Ruby; 30. Aaron Benson.
Stock Cars – 1. Derek Green; 2. Elijah Zevenbergen; 3. Scott Yale; 4. Chad Palmer; 5. Derek Moede; 6. Randy Brands; 7. Kody Scholpp; 8. Kevin Opheim; 9. Matt Speckman; 10. Buck Schafroth; 11. Andrew Borchardt; 12. Jeff Dolphin; 13. Pete Alexander; 14. Roger Tripp; 15. Troy Swearingen, Thompson; 16. Parker Slagle; 17. Taylor Nelson; 18. Christopher Toot; 19. Jake Masters; 20. Heath Tulp.
Hobby Stocks – 1. Chanse Hollatz; 2. Cody Nielsen; 3. Brandon Nielsen; 4. Scott Dobel; 5. Austin Jahnz; 6. Drew Barglof; 7. Blaine Hanson; 8. Zac Smith; 9. Jeremy Wagner; 10. Doug Wickman; 11. Zack Smidt; 12. Austin Pinney; 13. Travis Johnson; 14. Tony Smidt; 15. Chris Krug; 16. Bill Cooper; 17. Jay Sidles; 18. Jacob Kofoot; 19. Parker Anderson; 20. Brandfon Schaer.
Northern SportMods – 1. Cody Thompson; 2. Doug McCollough; 3. George Nordman; 4. Josh Appel; 5. Colby Fett; 6. Tyler Bragg; 7. Gerald Curry; 8. Jeremiah LaDue; 9. Nate Whitehurst; 10. Jeff Carter; 11. Mathew Hanson; 12. Alec Fett; 13. Nate VanSchepen; 14. Brett Meyer; 15. Brady Joynt; 16. Andrew Inman; 17. Nate Albrant; 18. Autumn Anderson; 19. Greg Magsam; 20. Kevin Wiemers; 21. George Gilliland; 22. Johnathon Logue; 23. Alex Schubbe; 24. Bill Wegner; 25. Bryer McCoy.