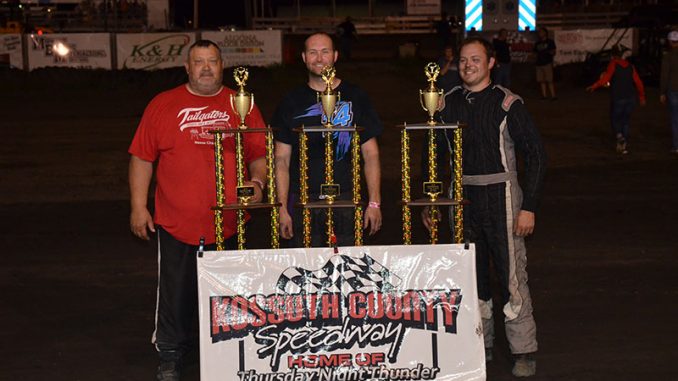 By Greg Grabianowski
ALGONA, Iowa (Aug. 4) – The rest of the IMCA Modified field couldn't catch Brandon Beckendorf, who raced to one of four $1,000 paydays at Kossuth County Speedway's Gary Harken Memorial.
Jesse Hoeft was the early leader before Beckendorf took over the top spot on the third lap. The Danube, Minn., driver did not give up that spot once out in clean air as just a single yellow, just before midway of the 20-lap feature slowed his trip into victory lane ahead of fast closing Tad Reutzel.
The win put Beckendorf of the 2019 Fast Shafts All-Star Invitational ballot. Hard charger Jeremy went from 13th starting to third.
Also taking home $1,000 checks from the Kossuth County Fair show were Chad Palmer in the IMCA Sunoco Stock Cars, Chanse Hollatz in the IMCA Sunoco Hobby Stocks and George Nordman in the Karl Chevrolet Northern SportMods.
Derek Green and Elijah Zevenbergen were engaged in an entertaining battle until the final lap of the Stock Car main, when they got together coming out of turn two and Palmer sped past to earn the victory.
Hollatz took the Hobby Stock lead following a lap three restart and stayed in front to the finish, becoming the eighth different driver to win a feature in the division at Algona this season.
Alex Smith, Gerald Curry and the ninth starting Nordman slowly reeled in leader Alec Fett as the Northern SportMod feature progressed, with Nordman taking the lead with just five laps to go.
The Mach-1 Sport Compact feature went green, white, checkered as Oliver Monson took charge at half­way and motored to his sixth local victory of the season.
Feature  Results
Modifieds – 1. Brandon Beckendorf; 2. Tad Reutzel; 3. Jeremy Mills; 4. Jesse Hoeft; 5. Ben Kraus; 6. Nick Meyer; 7. Ben Schultze; 8. Cody Knecht; 9. D.J. Shannon; 10. Jeff Feaster; 11. Rob Hughes; 12. Loren Pesicka Jr.; 13. Mark Noble.
Stock Cars – 1. Chad Palmer; 2. John Wiemann; 3. Calvin Lange; 4. Kellie Schmit; 5. Dan Hanselman; 6. David Wickman; 7. Craig Berhow; 8. Roger Tripp; 9. Derek Green; 10. Elijah Zevenbergen; 11. Kevin Opheim; 12. Chad Lonneman; 13. Laura Curry; 14. Dan Mackenthun; 15. Bruce Wickman; 16. Wayne Landheer.
Hobby Stocks – 1. Chanse Hollatz; 2. Bryant Johnson; 3. Bryce Sommerfeld; 4. Brandon Nielsen; 5. Josh Sidles; 6. Gary Pesicka; 7. Jamie Weishaar; 8. Phil Lusson; 9. Jay Sidles; 10. Kyle Sidles; 11. Myles Koob; 12. Zack Smidt; 13. Chelsea Heldt; 14. Chad Krug; 15. James Burns; 16. Connor Smith; 17. Christo­pher Krug; 18. Mike Schadendorf.
Northern SportMods – 1. George Nordman; 2. Alex Smith; 3. Gerald Curry; 4. Alec Fett; 5. Jake Simp­son; 6. Alex Schubbe; 7. Doug Cook; 8. Jeramie Faber; 9. Kent Haugland; 10. Matt Looft; 11. Nate Albrant; 12. George Gilliland; 13. Kevin Wiemers; 14. Colby Fett.
Sport Compacts – 1. Oliver Monson; 2. Kaytee DeVries; 3. Lucas Parsons; 4. Justin Nielson; 5. Brad Mayland; 6. Jay DeVries; 7. Jacob Tacheny; 8. Ashlee Kelly; 9. Auggie Halverson; 10. Max Heimbuch.