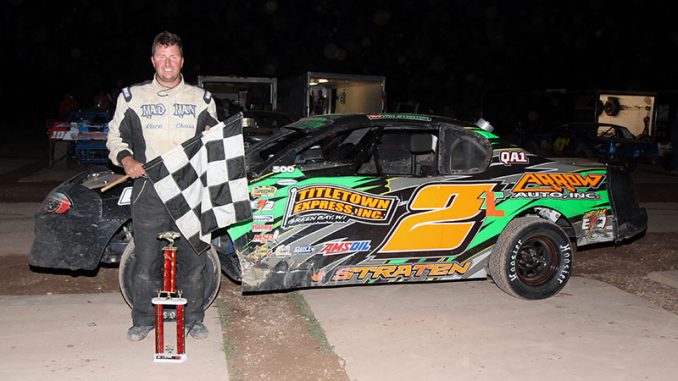 FRANCIS CREEK, Wis. (Aug. 2) – Benji LaCrosse couldn't remember the last year he raced an IMCA Sunoco Stock Car but his memory was pretty good when it came time to drive to victory lane at 141 Speedway.
Piloting Travis Van Straten's backup ride, LaCrosse led the last eight laps in winning the rescheduled King of the Creek special at Francis Creek, outrunning a field filled with heavy hitters for the $1,000 top prize.
"I was pretty pumped. It was fun," said LaCrosse, who collected 28 career wins in the division before going onto more than his fair share of IMCA Modified success. "I'd raced a Stock Car one night in 2007 and 2008 and didn't do very good. There's a big difference when you jump in a car that's already working well."
"It's kind of like getting on a pedal bike you haven't been on for a year," he continued. "You get to the first turn and it all comes back."
LaCrosse started shaking off the cobwebs by drawing a front row start and winning his heat race.
He started seventh in the main event and led the last eight circuits.
Rod Snellenberger, Shawn Havel, Shawn Wagner and Mike Mullen rounded out the top five.
Feature results – 1. Benji LaCrosse; 2. Rod Snellenberger; 3. Shawn Havel; 4. Shawn Wagner; 5. Mike Mullen; 6. Aaron Stolp; 7. Abe Huls; 8. Logan Rhode; 9. Jeremy Christians; 10. Kyle Frederick; 11. John Adams; 12. Kodiak Wirtz; 13. Mike Carter; 14. Jerry Leary; 15. Mark Schuenemann; 16. Travis Van Straten; 17. Joe Kerkhoff; 18. Luke Lemmens; 19. Elijah Zevenbergen; 20. Paul Diefenthaler; 21. Jay Schmidt; 22. Devin Snellenberger; 23. Brian Bruechert; 24. Brandon Czarapata.