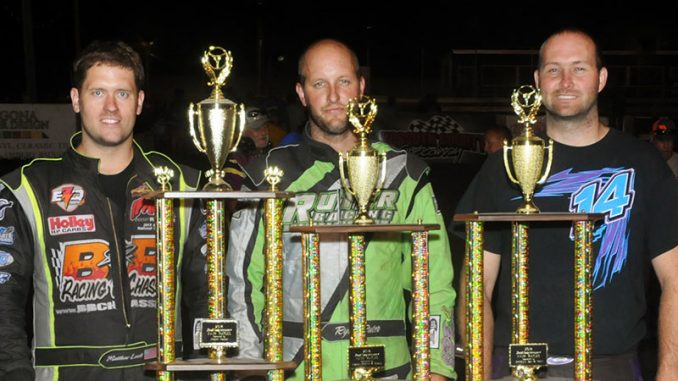 ALGONA, Iowa (Aug. 2) – Just a week after winning the Veterans' Night event at Kossuth County Speedway, Ryan Ruter was standing in victory lane at Algona with another big check and a very tall trophy.
Ruter led all 20 laps of Thursday's Hovinga Memorial main event for IMCA Modifieds, outrunning Jeremy Mills and Tad Reutzel for the $1,000 payday.
The feature was slowed by just a single caution and Ruter pulled ahead following the yellow just after midway. Clayton Christensen and Ethan Dotson rounded out the top five in the fair night show.
Ruter was already on the Fast Shafts All-Star Invitational ballot for 2019.
Tenth starting Chad Palmer was the IMCA Sunoco Stock Car winner, ahead of Kevin Opheim and David Wickman.
Hard-chargers led the way across the stripe in the Karl Chevrolet Northern SportMod headliner as eighth starting Matt Looft was the winner and 15th starting Doug Cook the runner-up. Third was George Nordman.
Josh Sidles collected the IMCA Sunoco Hobby Stock checkers in front of Brandon Nielsen and Jamie Weishaar.
Winner of the Mach-1 Sport Compact main was Colin Rodgers with Oliver Monson second and Lucas Parsons third.
Feature Results
Modifieds – 1. Ryan Ruter; 2. Jeremy Mills; Tad Reutzel; 4. Clayton Christensen; 5. Ethan Dot­son; 6. Nick Meyer; 7. Kelly Shryock; 8. Aaron Benson; 9. Jeff Ignaszewski; 10. Ben Kraus; 11. Scott Anderson; 12. Mat Hollerich; 13. Ben Schultze; 14. Cody Knecht; 15. D.J. Shannon; 16. Stacey Mills; 17. Loren Pesicka Jr.; 18. Austin Wolf; 19. Jeff Feaster.
Stock Cars – 1. Chad Palmer; 2. Kevin Opheim; 3. David Wickman; 4. Bruce Wickman; 5. Dan Hanselman; 6. John Wiemann; 7. Wayne Landheer; 8. Craig Berhow; 9. Heath Tulp; 10. Calvin Lange; 11. Kyle Ricke; 12. Roger Tripp; 13. Randy Brands; 14. Jesse Ely; 15. Derek Green.
Northern SportMods – 1. Matt Looft; 2. Doug Cook; 3. George Nordman; 4. Johnathon Logue; 5. Colby Fett; 6. Frank Packer; 7. Alec Fett; 8. Devin Fish; 9. Josh Appel; 10. Joey Lium; 11. Bran­don Ostwald; 12. George Gilliland; 13. Jake Simpson; 14. Kent Haugland; 15. Kevin Wiemers; 16. Alex Smith.
Hobby Stocks – 1. Josh Sidles; 2. Brandon Nielsen; 3. Jamie Weishaar; 4. Cody Nielsen; 5. Bryce Sommerfeld; 6. Kyle Sidles; 7. Jay Sidles; 8. Mike Schadendorf; 9. Chad Krug; 10. Tim Sidles; 11. Austin Pinney; 12. Jacob Kofoot; 13. Myles Koob; 14. Chelsea Heldt; 15. James Burns; 16. Christopher Krug.
Sport Compacts – 1. Colin Rodgers; 2. Oliver Monson; 3. Lucas Parsons; 4. Justin Nielson; 5. Jay DeVries; 6. Kaytee DeVries; 7. Jacob Tacheny; 8. Max Heimbuch; 9. Ashlee Kelly.