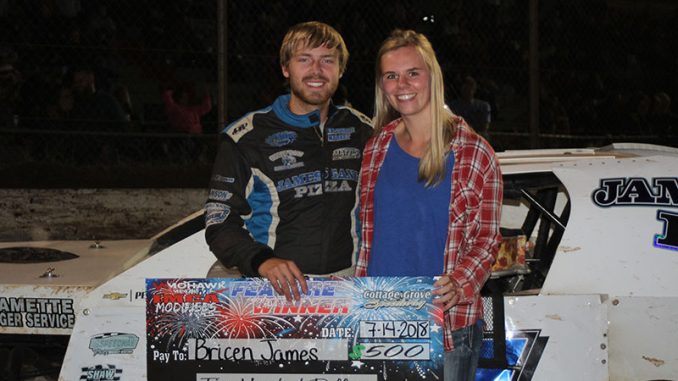 By Ben Deatherage
ALBANY, Ore. – 2018 has been an ultra-successful campaign for Bricen James.  The Albany, Ore., teenager has nabbed four wins at Cottage Grove Speedway and twice has visited victory lane at Willamette Speedway.
James was hoping to add more to that count by participating in two evenings of racing at Willamette Speedway on Friday and Saturday, July 27-28.
Friday saw James win his heat race and finish on top in the trophy dash. In the feature, he battled to­ward the front for most of the race. He spent the majority of the time in second place trying to track down the leader.
James caught the pace setter and the two battled in some heavy traffic. He got to the front with a daring pass on lap 28 and held on for the final two circuits for the victory.
"I really didn't think we had a chance there," said James. "Justin (Cady, the leader) was gone and if it hadn't been for lapped traffic he definitely wouldn't have won."
The next night, James competed at the Rick Barnes Memorial and picked up right from where the pre­vious race left off. He won his heat race and was second in the trophy dash.
"I started sixth and got to third on lap two, got lead after a restart from a caution and led the entire race after that," he said.
It would mark not just a great Saturday night but an incredible weekend as a whole. James col­lected his third and fourth victories of 2018 at Willamette and his eighth win overall.
The team will next head to Cottage Grove Speedway on Friday, Aug. 3, and Saturday, Aug. 4 for another doubleheader weekend.