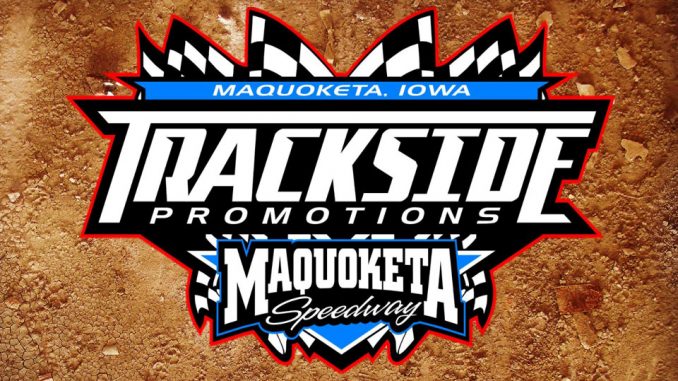 By Rob Hinckley
MAQUOKETA, Iowa (July 26) – "Yeah!"
That shout rang out and probably could be heard over the carnival rides behind the grandstand and the cheers of the appreciative crowd occupying the grandstand and bleacher seats.
The exclamation came from Matt Ryan as he pulled off the racing gloves and other driver safety equipment, then he climbed from his Andover Meat IMCA Late Model following the 25-lap win during the Jackson County Fair at Maquoketa Speedway.
A win during fair week is special.
"I tried a long time," the Davenport ace and 2017 track champion said in victory lane. "Last year I led this whole race and then Justin Kay passed me on the last lap. I didn't forget."
Ryan passed a handful of competitors and chased down early leader Joe Zrostlik.
"I watched that Modified race and those guys were going around there (high groove) pretty good," Ryan said. "But I thought sooner or later that's going to burn off and I needed to get by Joe and then get down. I got by him just in the nick of time."
Jeremiah Hurst, Andy Nezworski and Kay rounded out the top five. The latter raced from the 12th starting position.
That was a few moments after climbing from his QCJeeps.com IMCA Modified and a victory lane celebration.
Kay used the top of the well-prepared, quarter-mile dirt oval to slip by polesitter Tyler Madigan about halfway through the 20-lap finale. Then the Wheatland hotshoe held off a late charge from Bryce Garnhart for the win. Garnhart won the night before at the Dubuque fair.
Jake Bowman, Madigan and Ray Cox, Jr. were next.
Gage Neal took the lead early and won the B&D Pit Stop IMCA SportMod 15-lap main, his first Maquoketa win of 2018.
Timmy Current took his third straight Ueland Auto IMCA Stock Car 15 lapper on his home track after early leader Greg Gill spun on turn three.
Another hometowner came out of nowhere to capture the IMCA Hobby Stock 12-lap fair champion­ship. Kile Vohringer actually pitted during a caution to pull metal away from tires, re­started at the tail and sped to the front kicking up the dirt cushion on the high groove.
A great total of 100 race teams jammed the pits and the final checkered flag fell just after 9:30 p.m. on a perfect weather night for racing.
The speedplant takes a couple weeks off with action returning Saturday, Aug. 11.