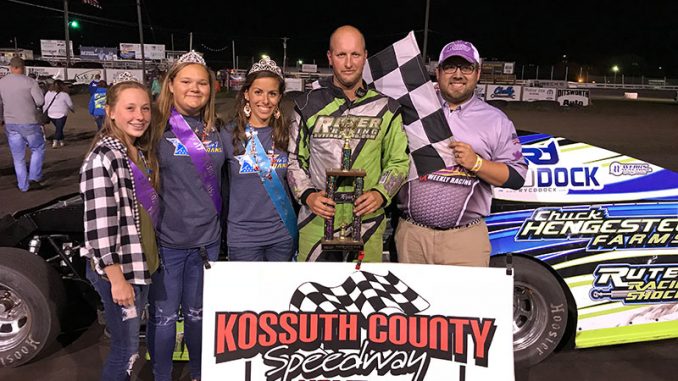 ALGONA, Iowa (July 26) – The crowd at Kossuth County Speedway thanked the men and women who have served in our military, then applauded $2,000 feature winners Ryan Ruter and Elijah Zevenbergen during the Thursday Veterans' Night event.
Ruter was running third and in the right place to capitalize when Kyle Strickler and Jeremy Mills tangled up front in the IMCA Modified main.
He led to the finish, running the top line and taking the checkers ahead of Wehrs Dash at the Clash winner Kelly Shryock, Ethan Dotson, Rob Hughes and Nick Meyer.
Ruter had taken the initial green flag from the fifth spot, Shryock from ninth.
"There were a lot of good cars there. It was a fun race, for sure," Ruter said following the 2019 Fast Shafts All-Star Invitational ballot qualifying win. "The track was really good and we got to take home the big payday."
Forty-nine IMCA Sunoco Stock Cars in all vied at Algona and Zevenbergen led that main event most of the way despite the best efforts of Derek Green and Kyle Frederick.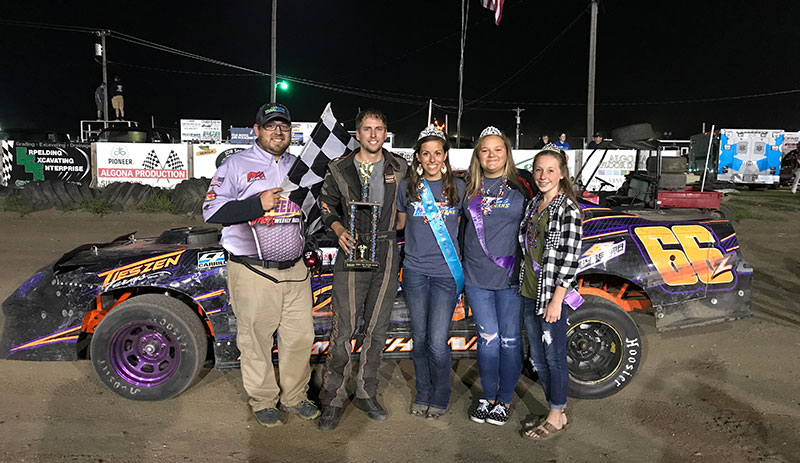 Zevenbergen had passed Green for the front spot early on, then navigated lapped traffic before a restart with four to go put the rest of the field on his back bumper.
"It was a top of the line field for sure. A lot of the best guys out there were here tonight," he said. "I won, but not by much."
Green ended in second while Frederick, who had pulled alongside Zevenbergen a couple times, was third. Thirteenth starting Curt Lund and 15th starting Damon Murty were next across the stripe.
Murty had won his 'B' feature in making the grid.
Other feature winners Thursday were Cody Nielsen, IMCA Sunoco Hobby Stocks, Colby Fett, Karl Chevrolet Northern SportMods, and Jay DeVries, Mach-1 Sport Compacts.
Feature Results
Modifieds – 1. Ryan Ruter; 2. Kelly Shryock; 3. Ethan Dotson; 4. Rob Hughes; 5. Nick Meyer; 6. Tad Reutzel; 7. Eric Elliott; 8. Cody Knecht; 9. Ben Schultze; 10. Scott Anderson; 11. Mat Hollerich; 12. Ben Kraus; 13. Todd Stinehart; 14. Stacey Mills; 15. Jeff Feaster; 16. Kyle Strickler; 17. Josh Ruby; 18. Lyle Sathoff; 19. Loren Pesicka Jr.; 20. Jeremy Mills.
Stock Cars – 1. Elijah Zevenbergen; 2. Derek Green; 3. Kyle Frederick; 4. Curt Lund; 5. Damon Murty; 6. Abe Huls; 7. Dustin Larson; 8. Randy Brands; 9. Calvin Lange; 10. Brandon Czarapata; 11. Andy Altenburg; 12. Luke Sathoff; 13. Dan Mackenthun; 14. John Wiemann; 15. Jarod Weepie; 16. Mel Elsberry; 17. Craig Berhow; 18. Rick Mees; 19. Bruce Wickman; 20. David Wickman; 21. Kevin Opheim; 22. Dusty Van Horn; 23. Jeff Mueller; 24. Shawn Wagner; 25. Jeff Larson; 26. Jesse Ely; 27. Kyle Vanover; 28. Jake Masters; 29. Chad Palmer; 30. Dan Hanselman.