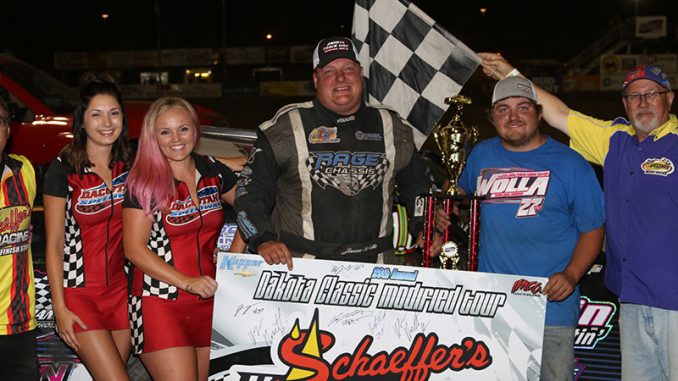 By Mike Spieker
MANDAN, N.D. (July 12) – The defending national champion let his emotions show when the 29th annual Kupper Chevrolet Dakota Classic Tour came to a close Thursday at Dacotah Speed­way.
Jason Wolla claimed a hard-fought Modified win after 30 laps, as Hunter Marriott successfully concluded his bid for a third straight title with a second-place finish.
"Hell yeah! We won!" Wolla exclaimed from victory lane. "To every single one of the fans up in the stands, it means a hell of a lot for me to be able to win this race on our home track. All these guys from out of town can pack it up, we won tonight."
Outside front row starter Wolla grabbed the lead on the opening circuit as third row starters Ricky Thornton Jr. and Marriott made their way up to second and third, respectively.
Thornton slid up briefly to take the lead on lap 12 but Wolla came back to retake the top spot on the other end of the speedway. The lead duo swapped the point back and forth again on the follow­ing lap before Thornton took sole possession of the position on lap 14.
Wolla didn't go away, however. Thornton got held up in lapped traffic just past halfway, which gave the lead back to Wolla.
The race for the lead heated up again with 10 to go as Thornton drove to the outside in lapped traffic. Marriott made it a three-car fight for the point before Thornton tried to clear Wolla with a pair of slide jobs; each time Wolla kept his foot on the throttle and powered around the outside to hold the lead.
What was a battle for the lead became a fight for second between Thornton and Marriott and Wolla drove away with five to go.
After getting by Thornton for second, Marriott came charging up to Wolla. Marriott pulled even off turn four coming to the white flag. A lapped car in Marriott's lane on the final lap was all Wolla needed to win the race back to the $2,454 checkers.
Curt Lund, best known for his IMCA Modified and IMCA RaceSaver Sprint Car success, scored his first win of the week in the IMCA Sunoco Stock Cars.
Lund started on the outside of the front row for the 25-lapper but didn't find the lead until just seven laps remained. Once out front, Lund didn't have any time to get comfortable as eventual champion Elijah Zevenbergen, threw slide job after slide job for the lead with under five to go.
A cau­tion with two to go put Zevenbergen right on Lund's rear bump of Lund for the restart. Lund dove to the inside of turns one and two as the race resumed. Zevenbergen didn't have enough speed to reel in Lund on the final circuit as Lund cruised to the feature win.
Zevenbergen claimed his fourth straight and fifth career Stock Car Tour title.
Feature Results
Modifieds – 1. Jason Wolla; 2. Hunter Marriott; 3. Ricky Thornton Jr.; 4. Tim Ward; 5. R.C. Whit­well; 6. Eddie Belec; 7. Jason Beaulieu; 8. Casey Arneson; 9. Jeremy Keller; 10. Ethan Dotson; 11. Mike Greseth; 12. Shawn Strand; 13. Aaron Turnbull; 14. Kody Scholpp; 15. Tom Berry Jr.; 16. Kelly Shryock; 17. Steven Pfeifer; 18. Zach Olson; 19. Paul Stone; 20. Kyle Brown; 21. Marlyn Seidler; 22. Dan Aune; 23. Marcus Tomlinson; 24. John Corell; 25. Billy Kendall III; 26. Mark Dahl; 27. Drew Christianson; 28. Tim Perkins; 29. Justin O'Brien; 30. Jarrett Carter; 31. Robert Hellebust.
Stock Cars – 1. Curt Lund; 2. Elijah Zevenbergen; 3. Dalton Flory; 4. Cody Nelson; 5. Matt Speck­man; 6. Joe Flory; 7. Gregg Mann; 8. Chase Conway; 9. Beau Deschamp; 10. Colin Heim 11. Jeremy Swanson; 12. Scott Gartner; 13. Jody York; 14. Dave Moriarty; 15. Keith Mattox; 16. Eric Harpole; 17. Kirk Martin; 18. Jason Rogers; 19. Andy Altenburg; 20. Austin Daae; 21. Devon Gonas; 22. Chris Heim; 23. A.J. Dancer; 24. Angel Munoz.