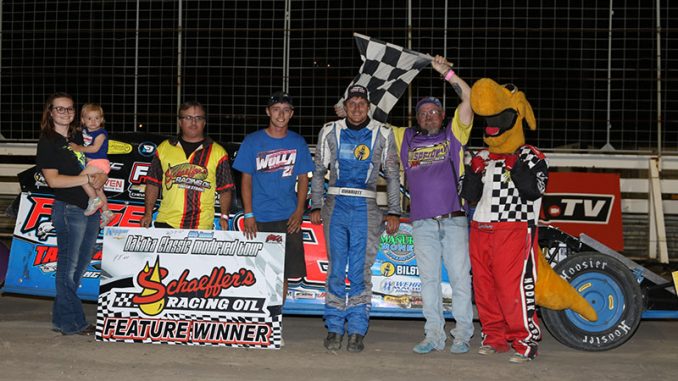 By Mike Spieker
MINOT, N.D. (July 8) – Hunter Marriott looks poised to back up last year's Kupper Chevrolet Dakota Classic IMCA Modified Tour championship. The Brookfield, Mo., driver claimed the $2,454 IMCA Modified win Sunday at Nodak Speedway for his second win in as many nights.
Things heated up at halfway as both Ricky Thornton Jr. and Marriott got a run on leader Michael Greseth down the backstretch, which made for a three-wide race for the lead into turn three.
Marriott went from third to the point as Thornton drifted up out of turn four and caught the wall. Greseth returned the favor on Marriott with a big slide job in turns one and two, but Marriott was able to regain the lead down the backstretch. 
Once out front, Marriott checked out from the rest of the field. Behind him, a torrid battle for second continued. On lap 18, Tim Ward drove from fifth to second after getting a run off turn two. Greseth, Wolla and Thornton went three wide for third into turn three, which resulted in Greseth and Wolla making contact. 
Marriott ran the remainder of the event unchallenged as he cruised to the win. Ward, Thornton, 15th starting Kody Scholpp, and Robert Hellebust rounded out the top five. 
"When we took off, I knew the car was good. I just didn't know how good it was," said Marriott in victory lane. "I just stayed up on the top with (Greseth) and (Thornton). Then at the same time I went for the lead, Ricky went for it too and it just happened to work out for me. Once we got rolling into clean air, the car was really good. It feels good to get back to victory lane here."
Marriott was already on the Fast Shafts All-Star Invitational ballot.
After an 18th place finish the previous night at Jamestown, defending champion Elijah Zevenbergen rebounded to collect the IMCA Stock Car feature win.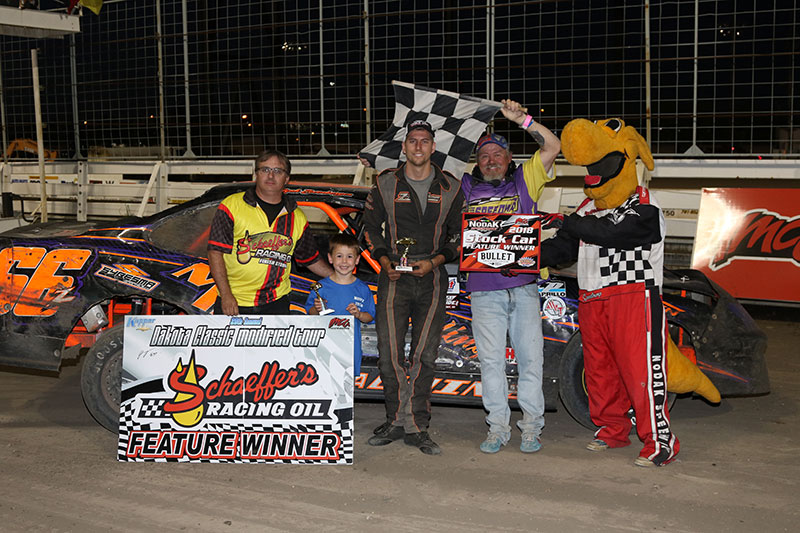 It took just four laps for Elijah Zevenbergen to charge from his fifth starting position to the lead. Zevenbergen took the lead with a slide job on pole sitter Jeremy Swanson. Swanson and Dalton Flory kept Zevenberg honest through the first half of the race, but as the race advanced, Zevenbergen's lead grew. 
Zevenbergen went on to take the win over 16th place starter Austin Daae. Flory, Swanson and Colin Heim rounded out the top five.
Feature Results
Modifieds – 1. Hunter Marriott; 2. Tim Ward; 3. Ricky Thornton Jr.; 4. Kody Scholpp; 5. Robert Hellebust; 6. R.C. Whitwell; 7. Jason Wolla; 8. Tom Berry Jr.; 9. Billy Kendall III; 10. Shawn Strand; 11. Eddie Belec; 12. Travis Hagen; 13. Ethan Dotson; 14. Alex Stanford; 15. Lance Mari; 16. Drew Christianson; 17. Mark Dahl; 18. Hank Berry; 19. Kelly Shryock; 20. Jeff Taylor; 21. Marlyn Seidler; 22. Justin O'Brien; 23. Jerad Thelen; 24. Jordan Huettl; 25. Wayne Johnson; 26. Casey Arneson; 27. Mike Greseth; 28. Chris Bragg; 29. Paul Stone; 30. Steven Pfeifer 
Stock Cars – 1. Elijah Zevenbergen; 2. Austin Daae; 3. Dalton Flory; 4. Jeremy Swanson; 5. Colin Heim; 6. Angel Munoz; 7. Ricky Thornton Jr.; 8. Matt Speckman; 9. Chris Heim; 10. Rob Stenvold; 11. Joe Flory; 12. Jason Rogers; 13. Cody Nelson; 14. Beau Deschamp; 15. Jake Nelson; 16. Eric Harpole; 17. Blake Adams; 18. Gregg Mann; 19. Andy Altenburg; 20. Curt Lund; 21. Keith Mattox; 22. Aaron Aaseth; 23. Dave Moriarty; 24. Devon Gonas; 25. Michael Swallers; 26. Scott Yale; 27. Matt Lang.