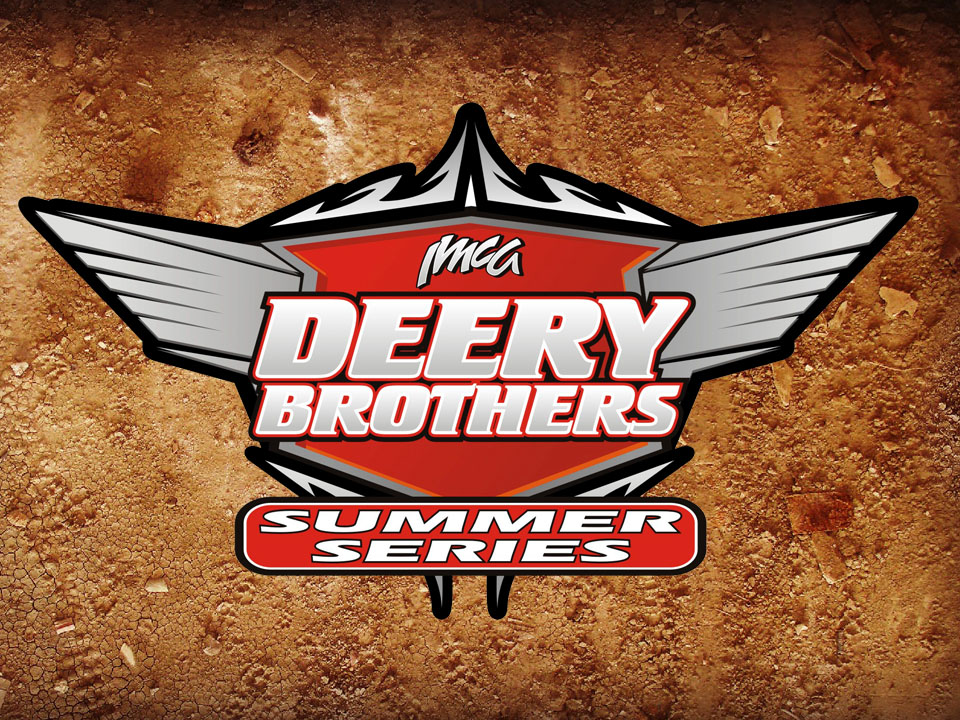 WEST BURLINGTON, Iowa – 34 Raceway celebrates the Big 5-0, then gets an early start at celebrating Independence Day next Tuesday.
The Deery Brothers Summer Series makes its 50th visit to West Burlington on July 3. Touring IMCA Late Models chase a top check of $2,000 with a minimum of $300 paid to start the main event.
34 Raceway was the site of the first-ever IMCA Late Model tour event, won by hometown driver Jay Johnson on April 11, 1987. The series has since traveled to West Burlington more often than any other track in its 31-plus years, with the single event record of 71 entries set there in 2006.
Thirty-one different drivers have won Deery features at 34, the most recent of them Nick Marolf of Mos­cow on opening night of the 2017 series.
"It's an important milestone coming up on Tuesday, for IMCA and the Deery Series as well as 34 Raceway," noted Tour Director Kevin Yoder. "34 was a fixture on the series schedule for so many years. It's is always great to go back to the track where the Deery Series got its start."
IMCA Sunoco Stock Cars are also on the program, running for IMCA Speedway Motors Weekly Racing National, EQ Cylinder Heads Northern Region and Iowa State points.
Pit gates open at 3 p.m. and the grandstand opens at 5 p.m. Hot laps are at 6:30 p.m. with racing to follow. Spectator admission is $15 for adults, $12 for seniors and students, and free for kids 10 and under when accompanying a paid adult.
Pit passes are $35 and fireworks follow the evening's race program.
All law enforcement officers get in free (with ID) on Law Enforcement Night. The midweek show is also a fundraiser for COPS (Concerns of Police Survivors).
More information is available by calling 319 752-3434 and at the www.34raceway.com website.
Point leader Justin Kay of Wheatland equaled the series record of four straight main event victo­ries by winning the 2017 finale and the first three events this season. Winners since then have been Curt Martin of Independence, Andy Eckrich of Oxford and, last night at Benton County Speed­way, Jeremiah Hurst of Dubuque.
This is the 27th season the series has enjoyed title sponsorship by the Deery Brothers Automotive Group.
Deery Brothers Summer Series top 20 point standings – 1. Justin Kay, Wheatland, 247; 2. Jeremiah Hurst, Dubuque, 219; 3. Ryan Dolan, Lisbon, 217; 4. Curt Martin, Independence, 208; 5. Todd Cooney, Pleasant Hill, 203; 6. Joe Zrostlik, Long Grove, 197; 7. Nick Marolf, Moscow, 188; 8. Chad Holladay, Muscatine, 186; 9. Cayden Carter, Oskaloosa, Iowa, 154; 10. Andy Eckrich, Oxford, 150; 11. Tim Simpson, Iowa City, 141; 12. Rob Moss, Iowa City, 140; 13. Darrel DeFrance, Marshalltown, 139; 14. Matt Ryan, Davenport, 138; 15. Chad Coyne, Orion, Ill., 125; 16. Terry Neal, Ely, 115; 17. Eric Sanders, Sherrard, Ill., and Andy Nezworski, Buffalo, both 113; 19. Denny Eckrich, Tiffin, 104; 20. Charlie McKenna, Ames, 95.