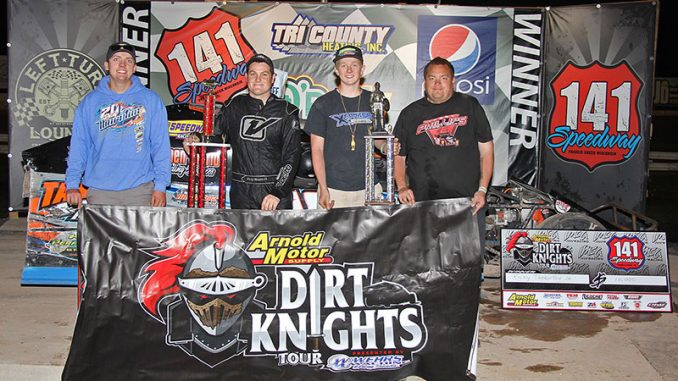 By Mike Spieker
FRANCIS CREEK, Wis. (June 21) – Ricky Thornton Jr. dominated Thursday's IMCA Modified Clash at the Creek at 141 Speedway to earn the $10,000 payday.
Already on the Fast Shafts All-Star Invitational ballot, Thornton led all 50 trips around the smooth and slick 1/3-mile dirt oval.
The Clash did double duty as an Arnold Motor Supply Dirt Knights Tour event, the first such held outside Iowa. Eighty-two Modifieds were entered and seven states were represented in the main event.
Thornton grabbed the lead from the pole on the opening lap as Mike Mullen filed into second. A gaggle of cars, including Hunter Marriott, Joel Rust, Kyle Stickler and Benji LaCrosse, raced for the final positions inside the top five.
Thornton immediately checked out from the field, establishing a one second lead over Mullen in the first five laps. Like Thornton, the rest of the drivers inside the top five ran the low side of the speedway until Strickler countered that trend.
Strickler went to the top side and quickly began picking off cars, going from sixth to second in five laps. Each driver he passed followed suit and began running the high side as well.
Stickler began to reel in the leader as Thornton encountered lapped traffic, but Stickler could only put a dent in Thornton's comfortable advantage. Marriott caught Strickler at the halfway point and placed a bid for the runner-up spot. The two traded second for the next three laps with Mullen staying within striking distance.
With 21 circuits remaining, Marriott snuck around the outside of Stickler for second. Meanwhile, Thornton Jr. enjoyed a lead of well over a straightaway.
With 14 laps to go, Thornton's lead was negated as the lone caution flew after a lapped car made contact with Marriott and spun in turn one. The caution was called on the lapped car and Marriott rejoined the field in second for the restart.
Just as he did on the initial start, Thornton checked out from the field immediately and easily cruised to the win as Marriott came home second.
"I wasn't sure how big of a lead I had," said Thornton from victory lane. "I kept looking at the scoreboard. I saw Kyle [Strickler] was second and then I saw Hunter [Marriott] got by him so I thought for sure he was going to be coming. When we got that yellow, I was just hoping my tires would fire on the restart. I had to make sure I hit my line in turn one or else Hunter would have drove right on by."
Following the post-race interview, Thornton took the traditional leap into the infield pond. He'd also won the Dirt Knights opener at Benton County Speedway.
Terry Phillips, who started 16th, finish third. LaCrosse and Dylan Smith rounded out the top five.
Modified qualifying began Wednesday at Francis Creek. Kyle Frederick and John Heinz were $1,000 IMCA Sunoco Stock Car feature winners and Ethan Braaksma and Kyle Raddant captured $1,000 to in features for Karl Chevrolet Northern SportMods.
Feature results – 1. Ricky Thornton Jr.; 2. Hunter Marriott; 3. Terry Phillips; 4. Benji LaCrosse; 5. Dylan Smith; 6. Kyle Strickler; 7. Jordan Grabouski; 8. Jason Czarapata; 9. Jason Hughes; 10. Joel Rust; 11. Kelly Shryock; 12. Josh Long; 13. Cayden Carter; 14. Jason Wolla; 15. Mark Joski; 16. Steve Schneider; 17. Tim Ward; 18. Troy Cordes; 19. Kyle Brown; 20. Billy Kendall; 21. Shawn Kilgore; 22. Brian Mullen; 23. Dan Roedl.