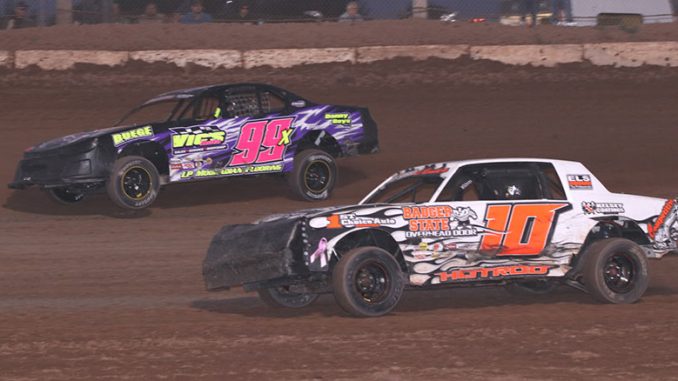 By Greg Aregoni 
FRANCIS CREEK, Wis. (July 6) – Jeremy Christians told Santa Claus he would take care of his own stocking stuffer present by taking home the $1,200 IMCA Sunoco Stock Car payday on Christ­mas in July Night Saturday at 141 Speedway.
Christians played The Grinch to 38 other competitors.
Christians and Rod Snellenberger drew the front row for the feature and Christians took quick advantage of his outside starting spot and got around Snellenberger.
Snellenberger stayed with the leader but had heavy pressure from Shawn Havel, who made his way around Snellenberger and set his sights on the top prize. Christians rode around the rim of the speedway with Havel trying multiple lines throughout the event to try and make the pass.
Havel got an A for effort but could never make a good enough charge. Christians never faulted and took home the win and $1,200 payday in front of Havel. Snellenberger won a late-race, three car battle over Aaron Stolp and John Heinz to finish third in the green to checkered finish.
Cody Schroeder decided to move up to the IMCA Modified division only a few weeks ago and learned very quickly he has what it takes.
Schroeder drove a near-flawless race to pick up his first career win in the division, in just a few weeks of competition. It was almost five years to the day from when he earned his first Karl Kus­toms Northern SportMod feature win at the speedway.
Christopher Budzban picked up his first-ever win at the speedway in his storied career in the Northern SportMods and Cody Vinney had a night to remember as he picked up a clean sweep in the Mach-1 Sport Compacts.