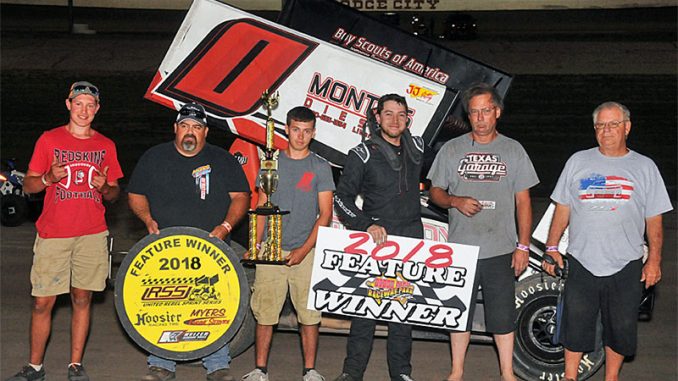 By Lonnie Wheatley
DODGE CITY, Kan. (June 15) – Steven Richardson reeled in his first career feature win atop the 3/8-mile Dodge City Raceway Park clay oval by wiring the field in Friday night's second annual Lubbock Wrecker Service DCRP vs. URSS 305 Sprint Car Nationals 20-lap preliminary feature.
It wasn't without a threat for the point though, as Luke Cranston closed in past the halfway point and was challenging before getting into the turn two wall.
"We've been running here a few years now, it feel great to finally get the dub," Richardson said in victory lane.
Ray Seemann was second in the IMCA RaceSaver Sprint Car prelim. Jake Bubak, Jason Martin and Jake Martens completed the top five.
Feature results – 1. Steven Richardson; 2. Ray Seemann; 3. Jake Bubak; 4. Jason Martin; 5. Jake Martens; 6. Koby Walters; 7. Taylor Velasquez; 8. Nick Haygood; 9. Tony Bruce Jr.; 10. Zach Blurton; 11. J.D. Johnson; 12. Austin McLean; 1Chad Koch; 14. Todd Plemons; 15. Tyler Knight; 16. Brian Herbert; 17. Brett Becker; 18. Buddy Tubbs; 19. Kris Moore; 20. Jed Werner; 21. Ty Williams; 22. Luke Cranston; 23. Jordan Knight; 24. Brandy Jones.