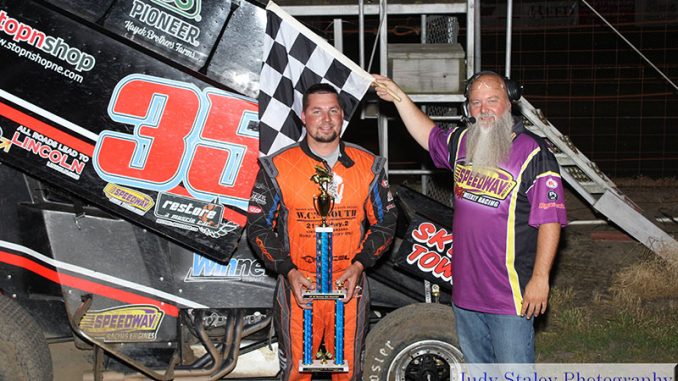 OSBORN, Mo. (June 8) – It's been a few years since he's been to Osborn but Trevor Grossen­bacher showed he still knows how to get to the front at US 36 Raceway.
Grossenbacher caught up with Tyler Drueke in traffic and made what proved to be the winning pass with four laps to go in Friday's Budweiser Shootout feature for IMCA RaceSaver Sprint Cars.
"The last time I ran here was five years ago," said Grossenbacher, who earned $1,000 for the feature victory and another $200 for winning his heat race. "It's a 2-1/2 hour trip for us but I'm sure we'll go back. It was a fun night."
The fifth starting Drueke and fourth starting Grossenbacher ran 1-2 much of the 20-lapper, con­tested by 19 cars representing six states. The caution came out with six laps remaining; Grossen­bacher used the top side to take the lead away two circuits later.
"I thought for sure he'd (Drueke) go to the top for the restart," Grossenbacher said. "He went to the bottom and that's when I caught him and passed him."
Drueke ended in second as Nebraska drivers filled out the top six spots. Joey Danley, Jason Mar­tin, Matt Richards and Stu Snyder were next across the stripe.
Feature results – 1. Trevor Grossenbacher; 2. Tyler Drueke; 3. Joey Danley; 4. Jason Martin; 5. Matt Richards; 6. Stu Snyder; 7. Zach Blurton; 8. Mike Houseman; 9. Jake Kinder; 10. Gene Ack­land; 11. Frank Rogers; 12. Boyd Peterson; 13. Ben Woods; 14. Mike Johnson; 15. Bob Hildreth; 16. Devin Wignall; 17. Dakota Osborne; 18. C.J. Houseman; 19. Chad Jarrett.