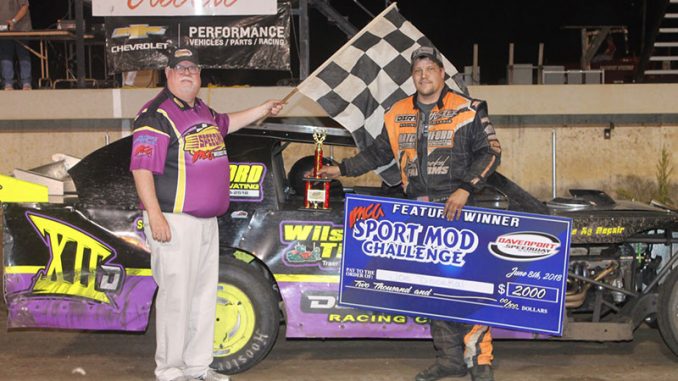 DAVENPORT, Iowa (June 8) – Joe Docekal dialed up the $2,000 feature win at Davenport Speed­way's Karl Chevrolet Northern SportMod Challenge Friday night.
The 50-lap main event started with Troy Bauer taking the lead from a front row starting spot. After a lap 11 restart, Dalton Simonsen, made his bid for the lead on the high side.
As Bauer moved up to block the move, Tony Olson dove to the bottom and took away the lead. Olson, the 2016 SportMod Challenge winner, then led the next 30 laps.
The final restart came on lap 44 and allowed Docekal to drive around Olson for lead.
Docekal led the remaining laps for the win. Gage Neal also passed Olson in the final laps to finish se­cond. Olson held on for third. Brayton Carter finished fourth and Simonsen fifth.
Drivers from three states vied in the sixth annual event.
Austin Moyer topped the IMCA Modified main and Chuck Hanna won his second straight Pe­tersen Plumbing & Heating IMCA Late Model feature.
Feature results – 1. Joe Docekal; 2. Gage Neal; 3. Tony Olson; 4. Brayton Carter; 5. Dalton Simon­sen; 6. Dustin Schram; 7. Tyler Soppe; 8. Austin Heacock; 9. Andrew Burk; 10. Adam Birck; 11. Troy Bauer; 12. Jacob Ellithorpe; 13. Brandon Jewell; 14. Aaron Mitchell; 15. Kyle Ol­son; 16. Mike Adam; 17. Rance Powell; 18. Austen Becerra; 19. Randy Lamar; 20. Jared Water­man; 21. Joe Schaefer; 22. Matt Fulton; 23. Keith Blum; 24. Mitch Strayer.