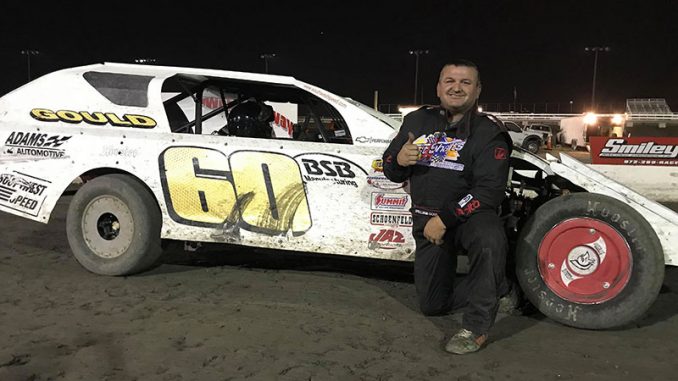 By Mike Spieker
MESQUITE, Texas (May 29) – William Gould was down to his final strike on two occasions Tues­day night at Devils Bowl Speedway for the 10th round of the IMCA Dirt Dominator.
Gould came from behind in three of the four rounds before claiming the $1,000 payday and punch­ing his ticket to the $10,000-to-win Dirt Dominator at Heart O' Texas Speedway in Waco, Texas on Oct. 25.
After defeating John Freeman in the Sweet 16, Gould had his hands full with Chris Elliott in the Elite Eight. Elliott led Gould by three car lengths after the white flag flew on the two and a half lap dash. Gould wasn't about to coast to the finish, however, as he drove his no. 60 IMCA Modified deep into turns three and four to pull even with Elliott off the corner.
The two drivers drag raced down the front stretch to the checkers. Elliott brushed the outside retain­ing wall, which was all Gould needed to take the win by a nose at the line and advance to the Final Four.
It appeared as though Gould had met his match in the semi-final round as he faced off against Garrett Higgins. Again, Gould found himself in second heading into the final set of corners. Gould drove his machine wide open into the inside of turns three and four, slid across the track and barely cleared the nose of Higgins. The two made contact exiting the corner, but Gould held on to claim another thrilling finish to move on to the Finals.
Riley Simmons jumped out to the lead on the opening lap of the final round as Gould found him­self in familiar territory. The door opened for Gould once again in turns three and four as Sim­mons slipped slightly, which allowed Gould to drive to the inside and take the lead. Gould had a five car length lead as he crossed under the white flag. Gould cruised to the checkers to cap off the most exciting run in the brief Dirt Dominator history.
For the first time, the Dirt Dominator was open to SportMods. Chris Florio took advantage of the rare opportunity and upset Rodney Twardeski.
Round 11 of the Dirt Dominator is set for June 1 at Southern Oklahoma Speedway in Ardmore. For more information, visit DirtDominator.com
Sweet 16
Cory Davis defeated Jeffrey Abbey; Raymond McSpadden defeated Brint Hartwick; Riley Sim­mons defeated Taylor Florio; Josh McGaha defeated Dalton Knox; Chris Elliott defeated Jeff Hoegh; William Gould defeated John Freeman; Chris Florio defeated Rodney Twardeski; and Garrett Higgins defeated Chance Brown.
Elite 8
McSpadden defeated Davis; Simmons defeated McGaha; Gould defeated Elliott; and Higgins defeated Chris Florio.
Final 4
Simmons defeated McSpadden; and Gould defeated Higgins.
Final
Gould defeated Simmons.