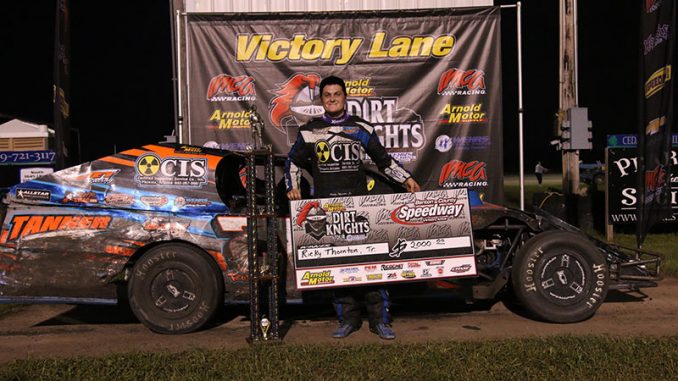 VINTON, Iowa (May 28) – A rare visit to Benton County Speedway resulted in a frequent result for Ricky Thornton Jr.
Thornton passed race-long leader Troy Cordes following a late restart and led the last four laps in winning Monday's Arnold Motor Supply Dirt Knights Tour feature for IMCA Modifieds. The checkers in the tour lidlifter were good for $2,000.
"I had a really good run on the restart and was thinking I'd either win or finish last," Thornton said of the roll-the-dice pass on the high side of the oval. "I had pretty good car and made a couple strong runs but might have to have settled for second without that restart."
Cordes led the first 26 circuits from his outside pole start. Jarrett Brown headed the pursuit through the first half of the race before Thornton made his way to second following a caution at midway.
Hunter Marriott passed Thornton on lap 19 and challenged Cordes before going off the backstretch four laps later.
That put Thornton back in second and in position to catch Cordes. His margin of victory was electronically timed at just over a second and a half; Brown, Ethan Dotson and Joel Rust rounded out the top five while Marriott raced back to sixth.
The tour win was Thornton's first in 10 career starts. His one previous victory at Benton County Speedway came at the Frostbuster two years ago.
"Winning tonight was huge for us," Thornton said following his ninth 2018 Fast Shafts All-Star Invitational ballot qualifying victory. "We wanted to see how tonight worked out. We're definitely going to keep following the tour."
The next race will be one for the history books regardless of who takes the checkers, as the tour makes its first-ever trip out of state, for the $10,000 to win Clash at the Creek at 141 Speedway in Francis Creek, Wis., on June 20 and 21.
Thirty-six Modifieds were entered in the Memorial Day event at Vinton.
Jeff Mueller outran John Oliver Jr. and Scooter Dulin in a green, white, checkered finish to the IMCA Sunoco Stock Car main.
Leah Wroten led all but the opening lap in winning the IMCA Sunoco Hobby Stock feature. Brett Vanous was second and Justin Wacha third.
Joe Docekal took over up front just before midway and won the Karl Chevrolet Northern SportMod feature ahead of Joey Schaefer and Sam Wieben.
Feature Results
Modifieds – 1. Ricky Thornton Jr.; 2. Troy Cordes; 3. Jarrett Brown; 4. Ethan Dotson; 5. Joel Rust; 6. Hunter Marriott; 7. Darin Duffy; 8. Scott Hogan; 9. Kelly Shryock; 10. Bryce Garnhart; 11. Shane DeMey; 12. Todd Shute; 13. John Parmeley; 14. Kyle Brown; 15. Ronn Lauritzen; 16. Josh Most; 17. David Brown; 18. Matt Short; 19. Jeff James; 20. T.J. Smith; 21. Eric Barnes; 22. Brock Bauman; 23. Brad Dierks; 24. Corey Dripps.
Stock Cars – 1. Jeff Mueller; 2. John Oliver Jr.; 3. Scooter Dulin; 4. Norman Chesmore; 5. Shane Ebaugh; 6. Dean Kratzer; 7. Kevin Rose; 8. Russell Damme Jr.; 9. Lonnie Mercer; 10. Bob Ahrendsen; 11. Dustin Vis; 12. Damon Murty.
Hobby Stocks – 1. Leah Wroten; 2. Brett Vanous; 3. Justin Wacha; 4. Jacob Floyd; 5. Matt Brown; 6. Mike Kimm; 7. Tonia Stevens; 8. Kyle Dulin; 9. Jeremiah Andrews.
Northern SportMods – 1. Joe Docekal; 2. Joey Schaefer; 3. Sam Wieben; 4. Kyle Olson; 5. Austen Becerra; 6. Tyler Soppe; 7. Ethan Braaksma; 8. Shane Paris; 9. Justin Becker; 10. Ryan King; 11. Danny Dvorak; 12. Randy Lamar; 13. Richard Nelson; 14. Brady Hilmer; 15. James Roose; 16. Daniel Campbell; 17. Chuck Lewis; 18. Jacob Ellithorpe; 19. Ben Chapman; 20. Gage Neal; 21. Duane Roth; 22. Tony Olson; 23. Brandon Tharp; 24. Tom Lathrop; 25. Jared Waterman; 26. Chase Rudolf; 27. Dale Kite.