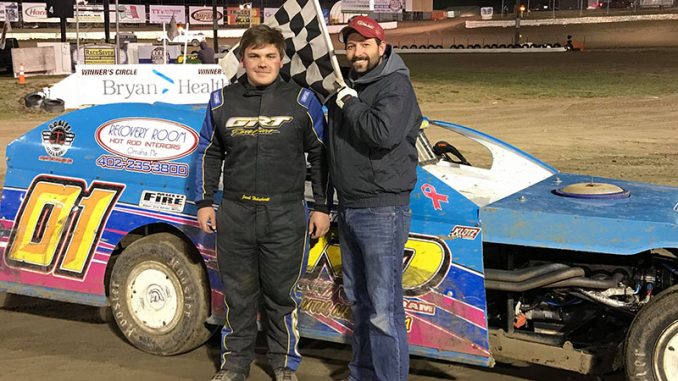 By Mike Spieker
EAGLE, Neb. (April 19) – After rounds four and five were canceled due to weather, the Dirt Domina­tor continued with round six of 16 at Eagle Raceway. In his first-ever trip to Eagle, Jacob Hobscheidt of Plattsmouth picked up the $1,000 Dirt Dominator payday.
Hobscheidt began by besting Eddie Belec in the Sweet 16. That wasn't the only upset of the open­ing round as early favorites Hunter Marriott, Kelly Shryock and Tim Ward were all handed defeat.
Hobscheidt continued to the quarter finals where he faced the defending IMCA Modified track champion Shane Hiatt. Hobscheidt used the preferred high side to grab the advantage on the opening lap of the two lap dash and take the win.
Hobscheidt just about saw his hopes of advancing to the finals vanish as he nearly spun out at drop of the green flag during the semi finals against Clint Homan. However, the yellow was dis­played because of an uneven start, which gave Hobscheidt new life. On the restart, Hobscheidt immediately opened up a comfortable advantage and cruised to the win.
That set up a final between Hobscheidt and fellow Nebraskan Dylan Smith. Hobscheidt won the coin toss for lane choice and chose the top side. At the drop of the green, the two were door to door until Hobscheidt pulled away on the high side exiting turn two. Once out front, Hobscheidt opened up a three car length lead. As the white flag flew, Hobscheidt only increased his lead as Smith had nothing for him on the final trip around the one-third mile clay oval.
Hobscheidt scored the win and secured his spot in the $10,000-to-win Dirt Dominator finale at Heart O' Texas Speedway scheduled for Oct. 25.
Sweet 16: Josh Blumer defeated Tim Ward; Shane Hiatt defeated Rik Gropp; Jordan Grabouski defeated Anthony Roth; Jacob Hobscheidt defeated Eddie Belec; Mike Densberger defeated Bran­don Spanjer; Trevor Baker defeated Hunter Marriott; Dylan Smith defeated Chad Andersen; and Clint Homan defeated Kelly Shryock.
Quarter Finals: Blumer defeated Grabouski; Hobscheidt defeated Hiatt; Smith defeated Dens­berger; and Homan defeated Baker.
Semi Finals: Smith defeated Blumer; and Hobscheidt defeated Homan.
Final: Hobscheidt defeated Smith.