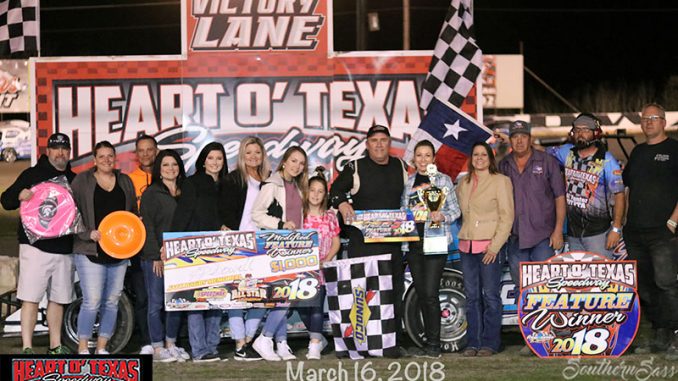 WACO, Texas (March 16) – After getting the lead back a second time, J.P. Dowell held off Justin McCoy for the $1,000 IMCA Modified feature win at Heart O' Texas Speedway's Jack Bagby Memo­rial.
Making his first start of the season in a car borrowed from Pat McGuire, Dowell drew the pole start. McCoy started outside front row and got ahead early and then again with two circuits left in the 20-lapper.
"I've won this event before and this year's race played out in my favor. It didn't hurt starting on the pole," Dowell said. "I chased Justin past midway before I could pass him back the first time. The second time was do or die. I got around him on the outside and had the lead when we came to the white flag."
"It was exciting. It was a good race," the new Fast Shafts All-Star Invitational ballot qualifier added. "It was exciting to pick up the big trophy and the big check."
McCoy, Justin Radcliff, Chase Allen and Kevin Green completed Friday's top five.
Benji Kirkpatrick paced the IMCA Sunoco Stock Car feature ahead of G.W. Egbert IV and Travis Norman. Gabe Tucker was first in the Smiley's Racing Performance Southern SportMod main, with Brandon Geurin second and Jacob Pirkle third.
Feature Results
Modifieds – 1. J.P. Dowell; 2. Justin McCoy; 3. Justin Radcliff; 4. Chase Allen; 5. Kevin Green; 6. Jef­frey Abbey; 7. Chad Melton; 8. Brandon Hood; 9. Eric Tomlinson; 10. Ryan Williams; 11. Pat McGuire; 12. Cody Daniel; 13. Chad Guest; 14. Jerry Frydrych; 15. Aaron Browning; 16. David Goode; 17. Tanner Flanagan; 18. Rob Slott; 19. Hardy Henderson; 20. Chris Morris; 21. Jordan Guest; 22. David Goode Sr.; 23. Brent Gilliam.
Stock Cars – 1. Benji Kirkpatrick; 2. G.W. Egbert IV; 3. Travis Norman; 4. Dillon Smith; 5. Andy Roller; 6. Justin Wierenga; 7. Benny Fajkus; 8. John Frydrych; 9. Adam Schwarz; 10. Joe O'Bryan; 11. Brandon Hood; 12. Markiss Harcrow. 
Southern Sport Mods – 1. Gabe Tucker; 2. Brandon Geurin; 3. Jacob Pirkle; 4. Sid Kiphen; 5. Taylor Florio; 6. Chris Cogburn; 7. Jeff Shepperd; 8. Ronnie Bell Jr.; 9. Kamera McDonald; 10.Kyle Wilkins; 11. James Hanusch; 12. Hayden Wade; 13. Adam Schwarz; 14. T.J. Green