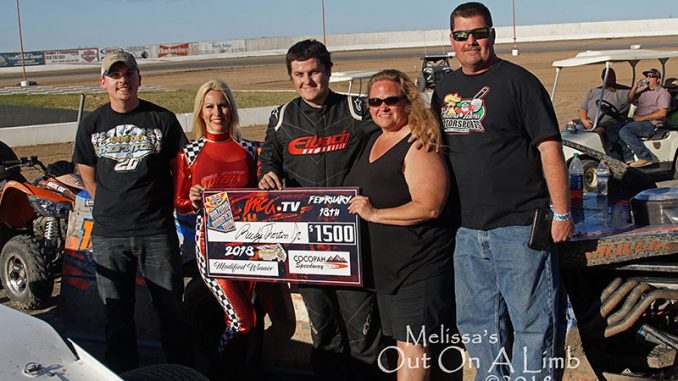 By Mike Spieker
SOMERTON, Ariz. (Feb. 18) – The second annual Karl Performance Arizona IMCA Modified Tour came to a close with a Sunday matinee at Cocopah Speedway and Ricky Thornton Jr. ended his afternoon with the $1,500 Winter Nationals feature win.
Thornton grabbed the lead from the pole as Aaron Turnbull followed him into second. Thornton quickly pulled away from the field, opening his advantage to over two seconds by lap five.
The field stretched itself out throughout the first half of the race until Thornton reached the tail of the field with 13 of 25 laps completed. Mired in traffic, Thornton's lead quickly evaporated to just a half second on Turnbull.
Turnbull, who was looking to pick up his second consecutive main event win, closed to within two car lengths until he was slowed by a lapped car. Thornton simultaneously over-drove turns one and two, which kept Turnbull within striking distance.
In clean track, however, Thornton hit his marks and cruised to the checkered flag.
"I kind of figured the groove was going to be right around the bottom. I knew Aaron was going to be good starting behind me so I knew I couldn't make any big mistakes on the bottom through traffic," Thornton said following his fifth 2018 Fast Shafts Allstar Invitational ballot qualifying vic­tory. "With about three to go, I missed the bottom and I thought the race was over. Luckily we had a big enough lead."
Turnbull, Tripp Gaylord, Marriott and Austin Kuehl rounded out the top five.
Austin Howes picked up the Karl Chevrolet Northern SportMod win in a feature slowed by cau­tions. He got out to over a one second lead with under five circuits remaining and took the win unchallenged in the late stages.
Nick Spainhoward, Chase Alves, Fred Ryland and Arie Schouten rounded out the top five.
Feature results – 1. Ricky Thornton Jr.; 2. Aaron Turnbull; 3. Tripp Gaylord; 4. Hunter Marriott; 5. Aus­tin Kuehl; 6. Ryan Gaylord; 7. Cody Laney; 8. Anthony Roth; 9. Chris Abelson; 10. Spencer Wilson; 11. Casey Arneson; 12. Jeff Taylor; 13. Chad Andersen; 14. Kody Scholpp; 15. Casey Skyberg; 16. Chaz Baca; 17. John Parmeley; 18. Troy Morris; 19. Dylan Goplen; 20. Shawn Strand; 21. D.J. Shannon; 22. Tim Ward; 23. Marlyn Seidler; 24. Wade Taylor; 25. Alex Stanford; 26. Lucas Schott.