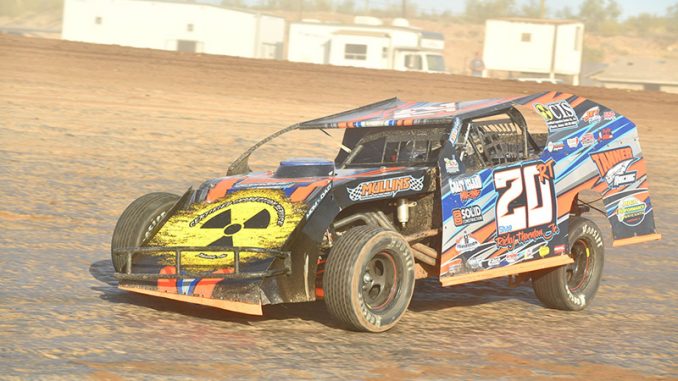 By Tony Steele
PEORIA, Ariz. (Jan. 27) – Ricky Thornton Jr. rolled through the middle of the track and around Hunter Marriott on his way to capturing his second IMCA Modified win of the Winter Challenge Series at Canyon Speedway Park.
After a three-wide start to the race that lasted more than a full lap, Marriott battled his way into the lead position early in the Saturday feature ahead of Thornton and Chaz Baca. As the race ap­proached halfway, Thornton began to show his nose to the inside of Marriott, finally pulling up alongside.
With Thornton pressuring to the inside, Marriott changed his line just enough for Thornton to go to the middle of the track and drive around the leader on the outside. Thornton, already on the Fast Shafts All-Star Invitational ballot, secured the $1,000 win while Marriott began to fade, making way for Tim Ward to grab the runner-up spot in his first race back in his home state of Arizona.
Marriott held onto third ahead of Cody Laney and Jeremy Payne.
George Fronsman won a second Winter Challenge Series IMCA Sunoco Stock Car feature while Joe Vlasity made it 3-for-3 at Canyon in the IMCA Sunoco Hobby Stocks. Shane Simper found his way to victory lane for the first time in the Karl Chevrolet Northern SportMod main.
Fronsman held off Cody Center for the 20-lap Stock Car win while Larry Brigner denied Dennis Losing in the battle for the third spot.
Vlasity swept the day in the Hobby Stocks, taking the main event checkers in front of Merle Zachrison and Max Zachrison.
Jason George looked to have SportMod feature locked up until a mistake down the backstretch saw his car skid off the track. Utah driver Simper took control of the race and grabbed.
George got back up to second and make but ultimately came up short as Simper went home with the win. 
Feature Results
Modifieds – 1. Ricky Thornton Jr.; 2. Tim Ward; 3. Hunter Marriott; 4. Cody Laney; 5. Jeremy Payne; 6. Jason Noll; 7. Spencer Wilson; 8. Anthony Madrid; 9. Jason Wolla; 10. Dan Fitzgerald; 11. Garth Dushanek; 12. Brenda Kirby; 13. Bryson Curry; 14. Kenny Gill; 15. Bubba Stafford Jr.; 16. Danny Curry; 17. Roy Poeling Sr.; 18. Paul Nelson; 19. Brent Schlafmann; 20. Joey Franklin; 21. Chaz Baca.
Stock Cars – 1. George Fronsman; 2. Cody Center; 3. Larry Brigner; 4. Dennis Losing; 5. Nick Langer; 6. Derrick Askren; 7. Mike Brigner.
Hobby Stocks – 1. Joe Vlasity; 2. Merle Zachrison; 3. Max Zachrison; 4. Allen Hakes; 5. Kyle Cardinal; 6. Bill Cole; 7. Chucky Thornton; 8. David Irvin; 9. Tommy Esquera; 10. Bradley Staf­ford; 11. Shea Kendig; 12. Mike Hartsock; 13. Paul O'Connor.
Northern SportMods – 1. Shane Simper; 2. Jason George; 3. Bill Miller; 4. Jimmy Davy; 5. Speedy Madrid; 6. Dennis Gates; 7. Adam Echter; 8. Rene Madrid; 9. Steve Duffy; 10. T.J. Wy­man; 11. Chris Anderson; 12. Justin Thornton; 13. Chase Alves; 14. Chris Caldwell; 15. Rene Madrid Jr.