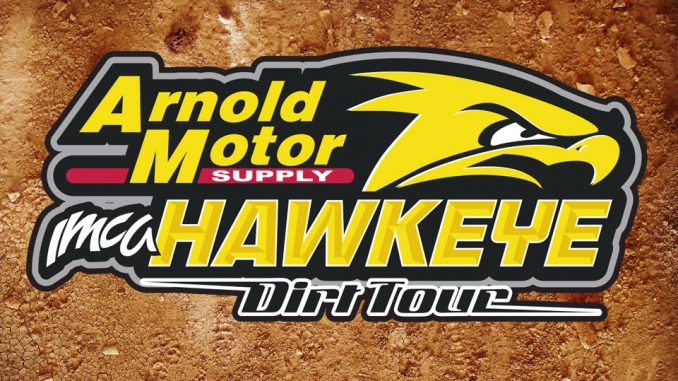 OSKALOOSA, Iowa – Still looking for a repeat winner, the Arnold Motor Supply Haw­keye Dirt Tour next takes traveling IMCA Modifieds to Southern Iowa Speedway and Knoxville Raceway for a pair of midweek shows.
The Wednesday, July 19 feature at Oskaloosa pays $1,000 to win while the Thursday, July 20 Dynamic Drivelines Dirt Duel event at Knoxville totes a $1,500 top prize.
IMCA Speedway Motors Weekly Racing National, Side Biter Chassis North Central Region and Allstar Performance State points, as well as special series points, will be awarded both nights. The Knoxville show will be the final qualifying event for the 2017 Fast Shafts All-Star Invitational ballot.
While Jimmy Gustin, Todd Shute, Justin Kay and Tyler Droste own feature wins thus far, con­sistent Kelly Shryock sits atop the point standings heading to Osky.
Shryock has posted top five finishes in each of the first four Hawkeye Dirt Tour features this sea­son. Joel Rust has been almost as good and is just two points out of a tie for the series lead.
Pit gates open at 5 p.m. and the grandstand opens at 5:30 p.m. at Oskaloosa.  Hot laps are at 7 p.m. and racing starts at 7:30 p.m.
Spectator admission is $15 for adults, $7 for students ages 13-17 and free for 12 and under. Pit passes are $30.
Also running at Oskaloosa will be IMCA Sunoco Stock Cars, IMCA Sunoco Hobby Stocks, Karl Chevrolet North­ern SportMods and Mach-1 Sport Compacts for all points, includ­ing track.
More information is available by calling 641 521-0330 and at the www.oskyspeedway.com web­site.
Knoxville, hosting Modifieds and Northern SportMods only, opens pit gates at 3:30 p.m. and the grandstand at 5:30 p.m. Hot laps are at 6:45 p.m. with racing to follow.
Grandstand admission is $15 for adults, $10 for teenagers and free for kids 12 and under. Pit passes are $30. Tow is $75 for Modifieds and $50 for SportMods.
More information is available by calling 641 842-5431 or 641 842-3220. Entry forms are also availa­ble at the www.knoxvilleraceway.com website under driver information/entry forms.
Both the Oskaloosa and Knoxville programs will be broadcast by IMCATV.
The seventh of nine Arnold Motor Supply Hawkeye Dirt Tour events this season is Tuesday, July 25 at Dubuque Speedway.
Arnold Motor Supply Hawkeye Dirt Tour top 20 point standings – 1. Kelly Shryock, Fertile, 149; 2. Joel Rust, Grundy Center, 147; 3. Kyle Brown, Madrid, 129; 4. Todd Shute, Des Moines, and Jacob Murray, Hartford, both 119; 6. Tyler Droste, Waterloo, 111; 7. Jimmy Gustin, Mar­shalltown, 95; 8. Cayden Carter, Oskaloosa, 92; 9. Clay Money, Penokee, Kan., 88; 10. Jesse Hoeft, Forest City, 86; 11. Corey Dripps, Reinbeck, 84; 12. John Emerson, Waterloo, 83; 13. Da­vid Brown, Kellogg, 80; 14. Hunter Marriott, Brookfield, Mo., 75; 15. Justin Kay, Wheatland, 73; 16. Tim Ward, Harcourt, 56; 17. Troy Cordes, Dunkerton, 55; 18. Kurt Kile, Nichols, 54; 19. Larry Herring, Lone Tree, 51; 20. Shane DeMey, Denison, 47.