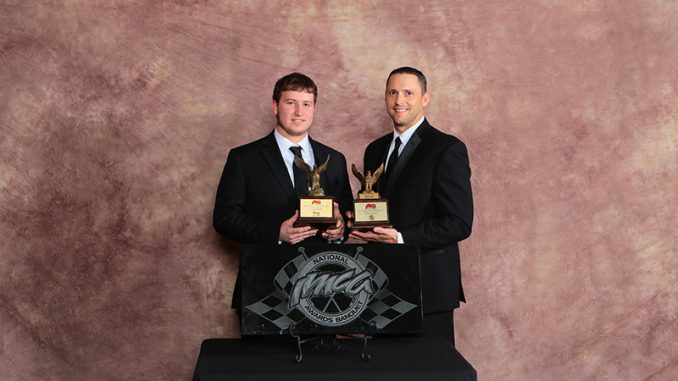 HILL CITY, Kan. – A tough 2015 Hobby Stock season didn't deter Kyle Pfeifer from moving to the IMCA Sunoco Stock Car division this year.
"I wanted to see what I could do in a new class," Pfeifer said, after winning eight of his 52 starts and earning national and EQ Cylinder Heads Northern Region rookie awards. "The competition level around here is second to none. I got to race with guys I grew up watching, and racing side-by-side with them for the win was awesome."
Also the Thomas County Speedway track and Allstar Performance State champion, Pfeifer was 12th in national points.
His career first Stock Car victory came on April 22 at Oberlin. He wrapped up the season with four wins and four more top five finishes in his last 10 starts.
"It was pretty cool to get my first Stock Car win at Oberlin because that's where I got my first Hobby Stock win, and the competition was really good that night," said Pfeifer. "The seat time helped for sure but we started to figure out more things about the class and really focused on our tire program at the end of the year."
A go-kart and motorcycle racer before his two seasons in a Hobby Stock, Pfeifer traveled to 10 different tracks over the course of the year with his father and crew chief Randall. He's donated half of his winnings each of the last two seasons to Patriots of Praise, a non-profit organization that takes military veterans on hunting and fishing trips.
"We had started out this year knowing we'd race about 50 times. I've always had a lot of luck at Thomas County," Pfeifer said, "but I really like the half-mile tracks."
Starts: 52
Wins: 8
Additional Top Fives: 19 
HIS CREW: Father Randall.
HIS SPONSORS: Parents Randall and Michelle Pfeiffer and Pfeiffer Service of St. Peter; Money Chevrolet, Radcliff Truck Sales and B & E Garage, all of Hill City; Allan and Donna Hill and Patriots of Praise, both of Hayes; Money Land and Cattle and Rock Creek Cattle Co., both of Penokee; Déjà vu Salon of Damar; Walt's Machine of Collyer; America's Best Steaks of Bogue; JW Performance and Wells Design, both of Ogallala, Neb.; and The Group Chat.