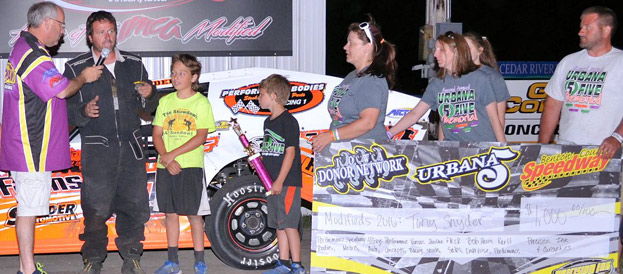 VINTON, Iowa (June 12) – Tony Snyder raced his way onto the Fast Shafts All-Star Invitational ballot while Tony Olson took home the biggest check from Sunday's Iowa Donor Network/Urbana 5 Memorial Night at Benton County Speedway.
Snyder held off hard chargers Racer Hulin and Kyle Brown for the $1,000 Xtreme Motor Sports IMCA Modified victory. Olson collected his second big payday of the weekend, pocketing $1,400 for his Karl Chevrolet Northern SportMod win.
One hundred and fifteen cars were counted in the pit area. Other winners on the evening included Da­mon Murty in the IMCA Sunoco Stock Cars and August Bach in the IMCA Sunoco Hobby Stocks.
Scott Hogan led the first two times around the track in the Modified main before fellow front row starter Snyder used the lower line to pass for the lead.
The only caution came out on the 14th circuit but there was no catching Snyder following the ensu­ing restart. He led the last 18 laps, beating sixth row starter Hulin and 21st starting Brown across the stripe.
Hogan and Zach less rounded out the top five.
Olson led the first lap of the Northern SportMod feature from the pole but couldn't keep the third-starting Dvorak from driving by on the lower line.
A lap nine yellow proved to be the only stoppage and Olson went to the top when the race re­turned to green. Once back in the lead, he couldn't be pried from the spot and led the rest of the way. Olson added Sunday's purse to the $2,000 he won at Davenport Speedway's SportMod Chal­lenge on Friday to make for a very rich weekend.
Scored next were Dvorak, Ben Chapman, Tyler Soppe and Troy Hovey.
Murty took the Stock Car lead early and left a three- and sometimes four-wide battle for second waging behind him.
Jay Schmidt got the better of Bob Ahrendsen in that tussle. Justin Stander and Norman Chesmore were fourth and fifth, respectively.
Bach came into the night second in the national points race and went home with a convincing win of his own after taking the lead before the third of three early cautions.
Benji Irvine challenged most of the distance. Rounding out the top five were Justin Wacha, Na­than Ballard and Jamie Songer.
Feature Results
Modifieds – 1. Tony Snyder; 2. Racer Hulin; 3. Kyle Brown; 4. Scott Hogan; 5. Zach Less; 6. Da­vid Brown; 7. Jerry Dedrick; 8. Mike Burbridge; 9. Ryan Maitland; 10. Patrick Flannagan; 11. Josh Barta; 12. Nick Nevins; 13. Corey Dripps; 14. Darin Duffy; 15. Bryce Carey; 16. Ronn Lauritzen; 17. Joe Docekal; 18. Brandon Maitland; 19. Dennis Betzer; 20. Bill Roberts; 21. Troy Cordes.
Northern SportMods – 1. Tony Olson; 2. Danny Dvorak; 3. Ben Chapman; 4. Tyler Soppe; 5. Troy Hovey; 6. Brayton Carter; 7. Kyle Olson; 8. K.C. Ansel; 9. Joey Schaefer; 10. Ethan Braaksma; 11. Kyle Bentley; 12. Matt Petrzelka; 13. Curt Hilmer; 14. Gage Neal; 15. Curtis VanDerWal; 16. Jerry Hinton; 17. Sam Wieben; 18. Mitch Manternach; 19. Erick Knutsen; 20. Ryan King; 21. Dakoda Sellers; 22. Creston Williams; 23. Jim Buhlman; 24. Jake Sachau.
Stock Cars – 1. Damon Murty; 2. Jay Schmidt; 3. Bob Ahrendsen; 4. Justin Stander; 5. Norman Chesmore; 6. Jarod Weepie; 7. Chris Luloff; 8. Scott Pippert; 9. Scooter Dulin; 10. Jerry Miles; 11. Cur­tis Roster; 12. Shane Ebaugh; 13. Mike Galli; 14. Lonnie Mercer; 15. Kevin Rose; 16. Chad Siems; 17. Scott Beauregard; 18. Buck Swanson; 19. Jared Daggett; 20. Jason Loue.
Hobby Stocks – 1. August Bach; 2. Benji Irvine; 3. Justin Wacha; 4. Nathan Ballard; 5. Jamie Songer; 6. Brett Vanous; 7. Daniel Wauters; 8. Brian Happel; 9. Matt Pohlman; 10. Justin Han­son; 11. Matt Brown; 12. Adam Petrzelka; 13. Jacob Floyd; 14. Zach Swanson; 15. Scott Siems; 16. Mike Kimm; 17. Brandon Pitts; 18. Kyle Dulin; 19. Derrick Thran.