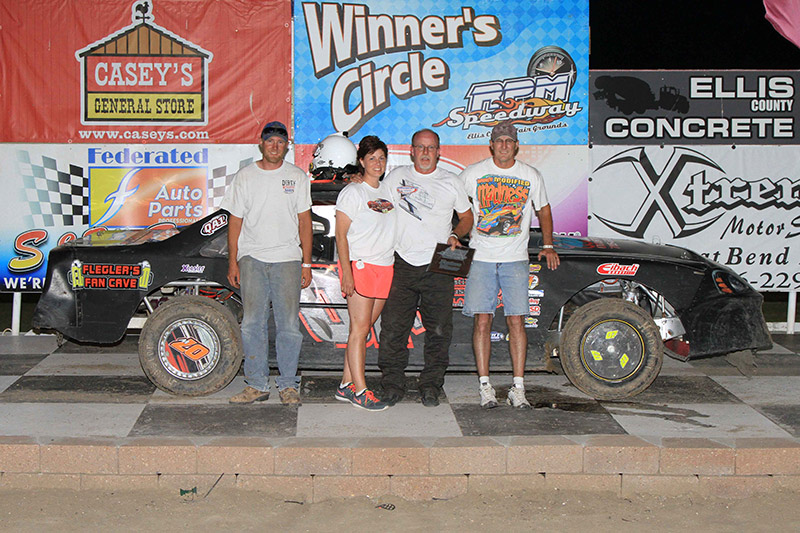 By Mike Hughes
HAYS, Kan. (June 11) – Tyler Frye and Daniel Gottschalk made repeat appearances in the winner's circle at RPM Speedway Saturday evening.
Marty Clark took the lead at the drop of the green in the Gib's Auto Supply IMCA Modified feature until Frye took over the lead on lap seven. After a three-car tangle on lap nine to bring out a caution, Frye led the field back to green. Mike Petersilie chased Frye down and took control on lap 13, only to have Frye regain the lead on the following lap and hold on for his second win at Hays this year.
Clay Money got by Petersilie late for the runner-up spot with Dylan Sherfick and Jeremy Frenier rounding out the top five.
Adam Weber took the lead in the 20-lap Karl Chevrolet SportMod feature but spun on lap four, giving the lead to Tyler Watts for the restart. Gottschalk passed Watts and continued to lead at the halfway mark with Blaine Walt moving to second. Watts took the lead on lap 14, but Gottschalk got back by on lap 18 and held off Walt for a trip to victory lane as Watts broke at the end. Tracy Holloway, Brian Conness and Dakota Sproul rounded out the top five.
The closest finish of the night was in the Advantage Glass Plus IMCA Stock Car feature as Arnold Williams got under leader Jason Schoenberger in turn four coming to the checkers to win by less than a car length.
The 20-lap Golden Plains Trucking IMCA Hobby Stock feature saw Andrew Burg take the lead from William McBride on lap five and drive on for a trip to the winner's circle. Point leader Eric Cross gave chase but settled for second.
Hometown driver Art Herzog won the battle for survival in the Cutting Edge Collision IMCA Sport Compact feature.
It was 'Pink Out Night' in honor of cancer survivors. The Ellis County Fire Department was also honored.