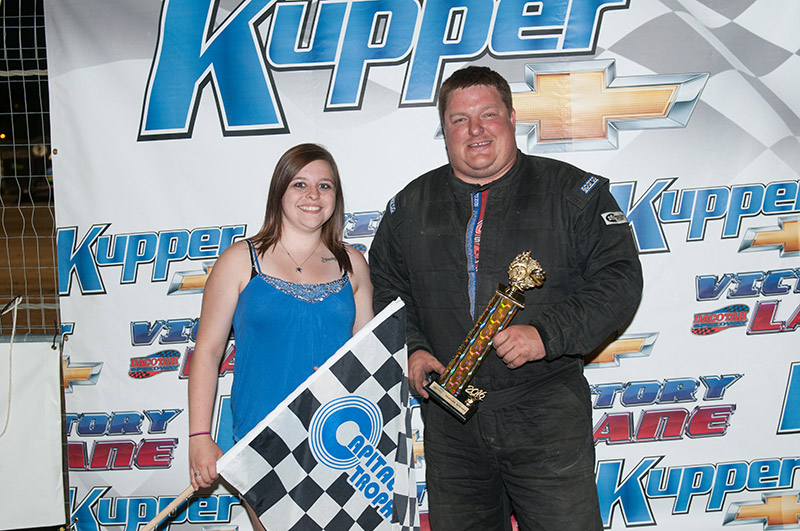 MANDAN, N.D. (June 10) – Jason Wolla made Friday's Xtreme Motor Sports IMCA Modified fea­ture at Dacotah Speedway a race for second place as he led all 25 times around the oval.
Wolla pulled away quickly as John Corell had his hands full trying to hold off Marlyn Seidler for second. The low line was the fast line as Tracy Domagala tried to find a way around Drew Christian­son for fourth.
As Wolla started catching lapped traffic with 12 laps to go, Domagala passed Christianson for fourth place. While racing for sixth place, Donald Robinson got into Travis Ulmer, bringing out the caution with eight laps to go.
However, Wolla pulled away once again on the restart. Point leader Seidler passed Corell for se­cond, bringing Spencer Wilson with him. Wilson, working in the highline, passed Seidler with four laps to go.
Wolla led all 25 laps to win for the second time at Dacotah Speedway this season. Wilson fin­ished second as Seidler ran third. Christianson used a last-lap pass to finish fourth ahead of Co­rell.
Josh Roehrich pulled away as the laps counted down and went on to pick up back-to-back feature wins in the Mach-1 Sport Compact division. Jason Berg finished second ahead of Chance Seelye. Dylan Sandberg, who started 14th, made a last-lap pass on Josh Houn to finish fourth.