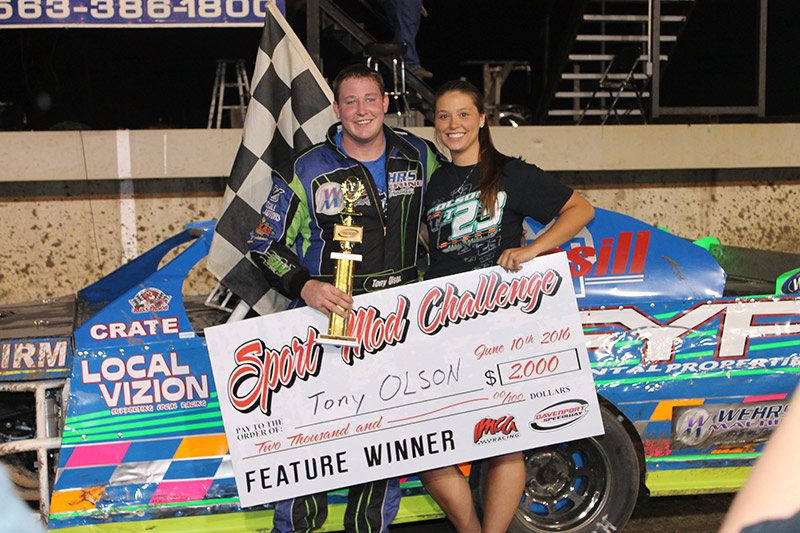 DAVENPORT, Iowa (June 10) – After checking out, Tony Olson was $2,000 richer after winning Friday's Karl Chevrolet Northern SportMod Challenge at Davenport Speedway.
Olson didn't just win, he dominated the 50-lap main event after taking the lead from Wisconsin's Brandon Schmitt on lap 10. Even in lapped traffic, Olson held a straightaway lead over the rest of the field.
Another Wisconsin racer, Jeff Steenbergen, moved up to second and held that spot for more than 30 laps before yielding to Illinois hotshoe Tony Dunker late in the race.
Dunker wound up with the runner-up position with Steenbergen holding on to third. Minnesota racer Jared Boumeester was fourth while "B" qualifier Dalton Simonsen rounded out the top five.
In Petersen Plumbing & Heating IMCA Late Model action, Justin Kay chalked up another victory. He also became the first driver in the division to score two wins at Davenport this season.
The Eriksen's IMCA Modified division saw a first-time winner in victory lane, only it wasn't a new face. Kay took the double dip after starting 12th.
SportMod Challenge feature results – 1. Tony Olson; 2. Tony Dunker; 3. Jeff Steenbergen; 4. Jared Boumeester; 5. Dalton Simonsen; 6. Brandon Schmitt; 7. Timmy Current; 8. Joey Schaefer; 9. Gage Neal; 10. Kyle Olson; 11. Andrew Burk; 12. Dan Anderson; 13. Kevin Goben; 14. Brandon Jewell; 15. Marcus Ostofi; 16. Dakoda Sellers; 17. Jake McBirnie; 18. Andre LaPorte; 19. Brandon Tharp; 20. Jake Morris; 21. Phil Anderson; 22. Aaron Hitt; 23. Jared Water­man.