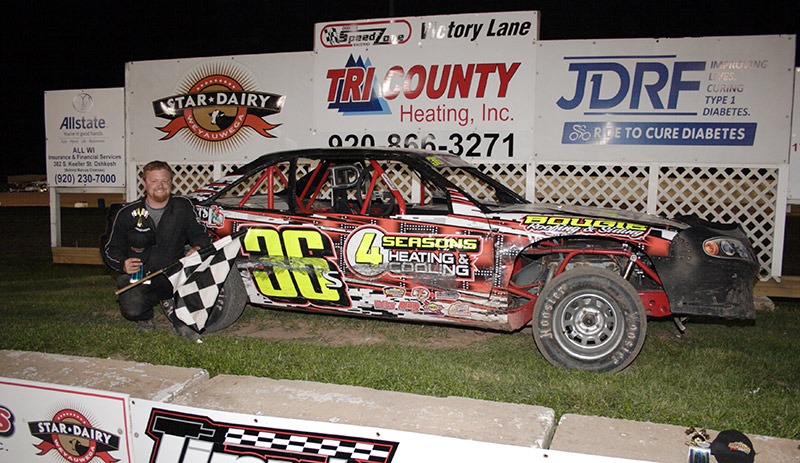 OSHKOSH, Wis. (June 3) – Travis Springstroh earned his Jim's Auto Repair IMCA Stock Car ca­reer first feature win Friday at Oshkosh SpeedZone Raceway.
Springstroh sat on the pole and was followed early by Steve Hiles and Derek Schrauth. Aaron Stolp, Joe White, Greg Wichman and Travis Van Straten  battled for position through the first 10 lap.
Springstroh was able to pull away from the field and by the time Van Straten was able to break from the pack into second place, he had ran out of laps to catch the leader. Springstroh has run the tough division since 2013 and clinched his first win ahead of the defending national champion, Hiles, Stolp and David Hoerning.
The Automotive Supply Company IMCA Modifieds took the green with Tony Wedelstadt taking the top spot followed by Craig Priewe, Shawn Frelick, Mike  Klenz, Adam Reed and R.C. Whitwell be­hind.
Priewe took the lead on lap four and Whitewell moved into third to challenge Wedesltadt. Contact between the pair out of turn four on lap six sent Whitwell to the rear of the field.   Priewe was able to survive several cautions and pressure from Wedelstadt  before pulling ahead with five laps left to win his first feature here since August 3, 2012.
T.J. Smith ran in the front pack throughout the race and a late charge earned him the runner-up finish.  Wedelstadt took third. Tim Lemirande made a charge from the back of the field and fin­ished fourth. Point leader Marcus Yarie was fifth.
Jason Ebert led the opening lap of the Nolte's Auto Repair and Towing IMCA Northern SportMod main before Brandon Schmitt took the top spot. After a lap three restart, Brock Saunders moved into second followed by Bud Riedner and Tim Sheppard.
Several cautions kept the field tight but Schmitt was up to the task and held off every challenge to capture his first-ever SpeedZone feature win. Saunders was right behind at the finish with Joe Bongiorno taking third. Jeff Steenbergen was fourth followed by Sheppard.
With ominous clouds and lightning to the west and north, the SpeedZone outlasted the threat to get in a full program.  A total of 136 cars competed.