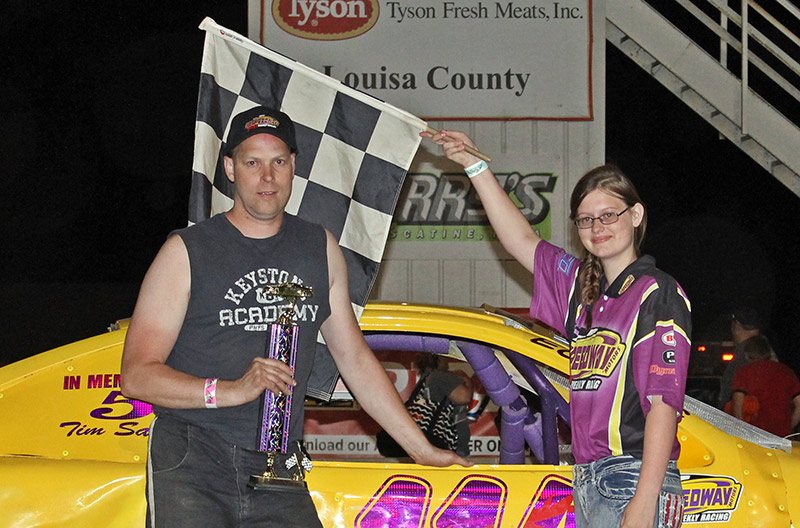 COLUMBUS JUNCTION, Iowa (June 3) ­– Richard Hurlbut was the $250 Mach-1 Sport Compact feature winner on CJ Speedway's Economart $5 Fan Appreciation Night at the races.
Josh Mosier and Hurlbut drew front row spots for the evening's 14-lap finale. Hurlbut grabbed the over Mosier and Cody VanDusen, who started sixth. While Hurlbut set the pace out front, Mosier and VanDusen swapped the runner-up spot back and forth over the entire 14 laps.
As Hurlbut held on to capture his first win of the season at the track, VanDusen took the second spot for good. Mosier was third.
Travis Finke and Blaine Dopler led the field to the drop of the green flag in the 16-lap Kauffman Electric IMCA Stock Car feature, with Dopler out front over Finke and Billy Faler. While Dopler set the pace out front, Kirk Kinsley, who started ninth, and Adam Bell, who started seventh, were slowly working their way toward the front.
Kinsley worked himself into the runner-up spot on lap six and then went to work on Dopler for the top spot. Coming out of turn four to complete lap eight, Kinsley got under Dopler for the lead.
Bell used a late race caution to clear Dopler for the runner-up spot but wasn't able to get under Kinsley for the lead, as Kinsley held on for his second win of the season at the track.