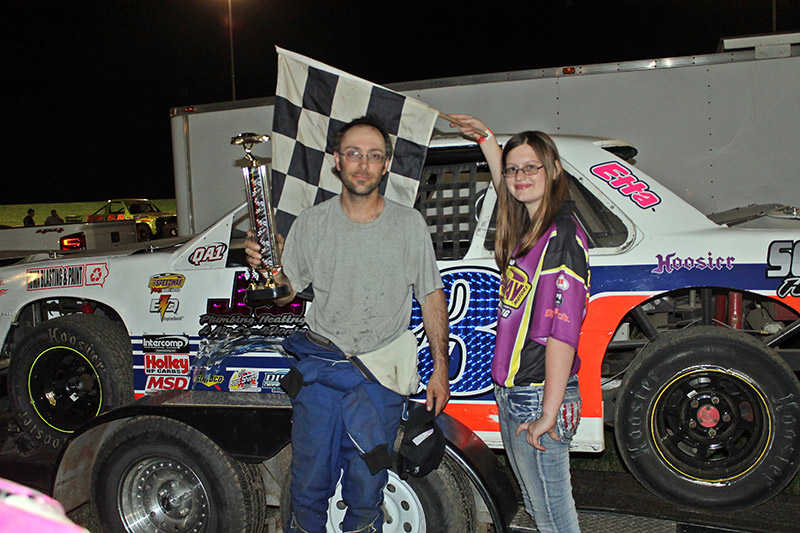 COLUMBUS JUNCTION, Iowa (May 27) – Adam Bell and Steven Struck were both repeat win­ners Friday at CJ Speedway.
Shane Paris and Billy Faler led the Kauffman Electric IMCA Stock Car field to green. Paris took advantage of his starting spot to move out into the lead on lap one. A couple early cautions al­lowed Bell, who started sixth, and Kirk Kinsley, who started eighth, to quickly move toward the front and challenge Paris for the top spot.
Bell slipped under Paris on lap four to grab the lead, leaving Paris to battle with Kinsley for the runner-up spot. Kinsley tried to get under Bell over the final few laps of the race but Bell was able to hold him off to capture his second win of the season at CJ. Kinsley was second and Paris third.
The Louisa Communications IMCA Sport Compact feature saw John Whalen and Jake Benischek making up the front row with Benischek scored first on the opening circuit.
Struck, who started 10th, and Bill Whalen Jr., who was scheduled to start 11th but had to go to the tail in a borrowed car, worked their way towards the front. Mechanical gremlins continue to haunt Benischek at CJ Speedway, as he slowed to a stop on lap seven.
Struck inherited the lead and then held off Whalen to pick up his second win in a row and third overall of the season locally. Brendon Schultheis was third.