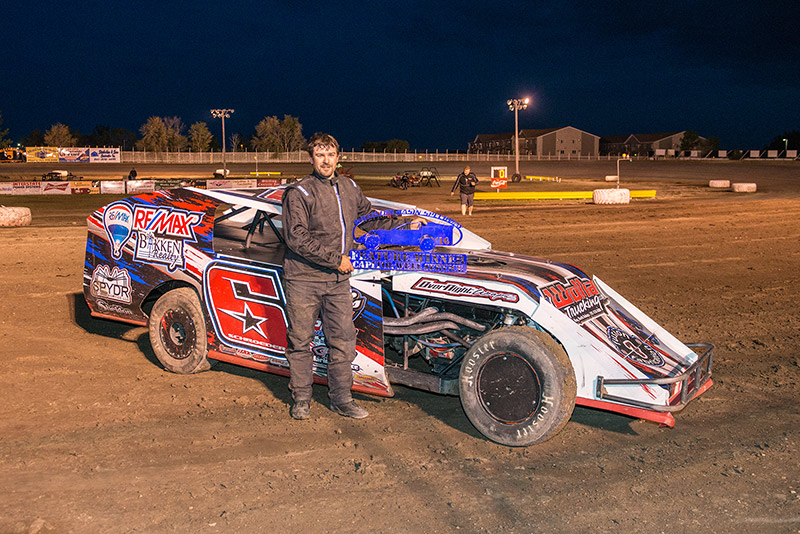 WILLISTON, N.D. (May 20-21) – After putting on a pair of passing clinics, Travis Hagen and Chris Schroeder proved they knew how to stay at the front.
Hagen won the Friday opener and Schroeder took the Saturday checkers at Williston Basin Speedway's Can-Am Shootout.
Both drivers earned $1,000 for their Xtreme Motor Sports IMCA Modified victories and a berth on the ballot for the Fast Shafts All-Star Invitational accompanied Schroeder's checkers. Hagen was already vote eligible, having won a Can-Am show last summer.
Jason Wolla was runner-up both nights, by half a car length on Friday and by two car lengths on Saturday.
Hagen started 13th in Friday's 25-lapper. He made the middle line work in getting to the front, passing Wolla with two laps to go and then hanging on for the win.
"I'd gotten a good restart after a caution with five or six laps to go," said Hagen, the winner for the first time this season Sunday at Nodak Speedway. "Both Jason and I were able to check out on the rest of the field after the next restart. He was fast, I was fast, we were equally fast. It was a good race."
Wayne Johnson, John Flory and 18th starting Ed Turnbull completed the top five.
Sixth on Friday, Schroeder lined up eighth in Saturday's starting grid. He was set up to run the top groove, passing John Flory and then Justin Medler for the lead before the first caution came with 17 circuits to go.
A timely yellow later in the contest was thrown as Schroeder was catching up with the back of the field. The final caution resulted in a green, white, checkered finish and while Wolla was able to pull alongside, he never found a way past Schroeder.
"We knew we had to get a good restart after that last caution. Jason got alongside me but couldn't pass. I got the momentum on the high side and got it done," Schroeder said following his career third victory at his hometown track. "This was a huge win, our biggest yet."
He'd add a big post-race plug to wife Sarah and kids Christian, Cynthia, Lyrik, Sage and Cashton.
Wolla had raced his way into contention from 12th starting. Hagen started 11th and finished third, Robert Hellebust started way back in 21st and finished fourth, and fifth was Hank Berry.
Other Friday winners were Joren Boyce in the IMCA Sunoco Stock Cars, Vance Tomlinson in the IMCA Sunoco Hobby Stocks and Eric Laudenschlager in the Karl Chevrolet Northern SportMods.
Saturday checkers flew for Dalton Flory in the Stocks, Andrew Bertsch in the Hobbies and Brock Beeter in the Northern SportMods.
Feature Results
May 20 – 1. Travis Hagen; 2. Jason Wolla; 3. Wayne Johnson; 4. John Flory; 5. Ed Turnbull; 6. Chris Schroeder; 7. Eric Sinness; 8. Tommy Lee; 9. Travis Peery; 10. Hank Berry; 11. Joey Price; 12. Kody Scholpp; 13. Ryan Wolla; 14. Troy Heupel; 15. Donavon Sorenson; 16. Jeremy Sorenson; 17. Darin Wendt; 18. Tim Sorenson; 19. Justin Medler; 20. Mark Neu; 21. Dalton Flory; 22. Jamall Wold; 23. Mike Hagen; 24. Robert Hellebust.
May 21 – 1. Schroeder; 2. Jason Wolla; 3. Travis Hagen; 4. Hellebust; 5. Berry; 6. John Flory; 7. Turnbull; 8. Heupel; 9. Sinness; 10. Jeremy Sorenson; 11. Jerad Thelen; 12. Darrin Schatz; 13. Dalton Flory; 14. Pete Bradley; 15. Ed Conlin; 16. Tommy Lee; 17. Joey Price; 18. Scholpp; 19. Peery; 20. Donavon Sorenson; 21. Medler; 22. William Kinden; 23. Tim Sorenson; 24. Shawn Nostdahl.