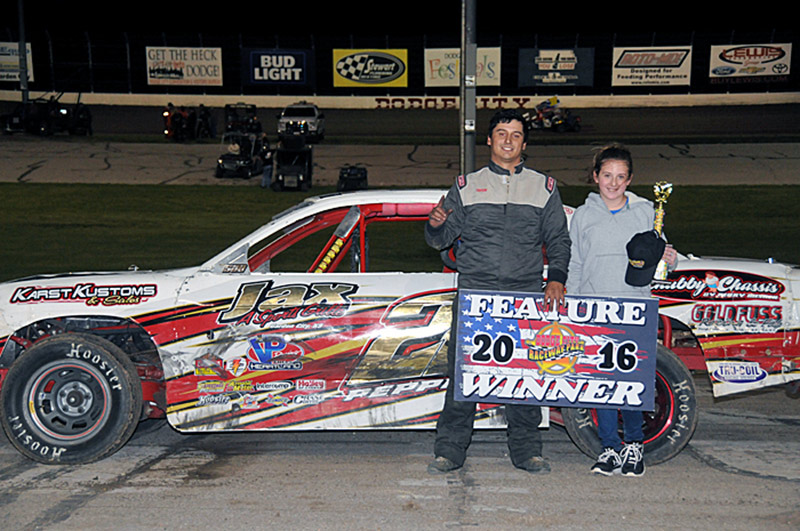 By Lonnie Wheatley
DODGE CITY, Kan. (May 21) – Michael Pepper wasted little time moving to the front in the 12-lap IMCA Sunoco Stock Car feature field to capture his second win of the year Saturday at Dodge City Raceway Park.
Starting inside the second row, defending track champ Pepper used the low side to charge into the lead on the opening lap and then held off Dusty Witthuhn the rest of the way as Chris Oliver fought off Marlin Hogie the entire distance to secure show honors.
Starting five rows deep in the 20-lap Xtreme Motor Sports IMCA Modified feature did little to deter Cole Traugott.
Traugott needed just eight laps to chase down early leader Tom Beavers and then checked out on the field to convincingly capture his third triumph in the last four Dodge City events in a non-stop affair.
Mike Roach worked his way from the 10th starting position to add his name to the list of IMCA SportMod feature winners at Dodge City thus far in 2016.
Roach, who won last year's SportMod Mayhem event, worked his way to second by the time the caution flew after 14 laps and then pounced on nephew Kaleb Roach on the restart to snare the lead and the win in the 20-lapper.
In IMCA Sunoco Hobby Stock action, defending track champion Cody Davis raced around Tobby Schield on the third round and went on to become the first repeat winner of the season through five rounds of competition.
After taking the lead from Schield, Davis kept Matt O'Hair at bay over the closing circuits to se­cure the win with Shield setting for the show position.