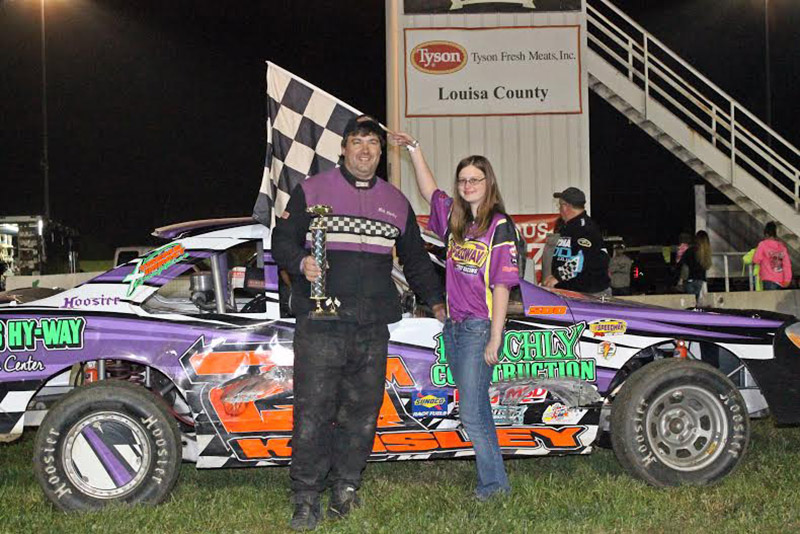 COLUMBUS JUNCTION, Iowa (May 20) – Racing action resumed Friday at CJ Speedway after Mother Nature claimed last weeks events.
The 18-lap Kauffman Electric IMCA Stock Car feature saw Shane Paris and Jason Hartman lead the field to the drop of the green flag. Paris jumped out into the lead over Rod Staats and Tad Payne, who started 10th.
Action up front was slowed on lap seven when fifth-running Adam Bell got into the back of Staats and both spun in turn four. On the restart, Paris jumped back out front with Kirk Kinsley, who started ninth, and Payne close behind.
The trio raced off turn four on lap nine three-wide as Kinsley edged out front at the line to grab the top spot. Kinsley held on over the final nine laps to capture his first local win of the season. Payne was second and Bell recovered from his involvement in the lap seven spin to come back up to third.
In the 14-lap Louisa Communications IMCA Sport Compact feature, Josh Mosier and Jake Benischek made up the front row. Benischek led early over Mosier and Lukas Yoder.
Mosier tried to work under Benischek over the next six laps but Benischek was able to hold him off every time at the line. Benischek pulled off with mechanical troubles on lap seven, handing the lead to Mosier.
Mosier held the top spot until lap 10, when Steven Struck, who started 9th, slipped by for the lead. Struck then held off Levi Heath and Mosier over the final four laps to score his second win of the season at the track.