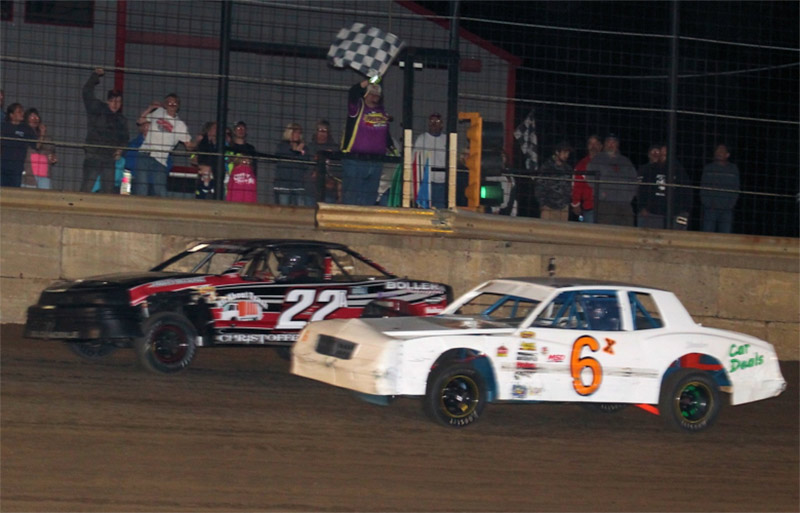 By Rick Staley
ATCHISON, Kan. (May 20) – Half a car length was the margin of victory for Alvie Christofferson in Fri­day's IMCA Sunoco Stock Car main event at Atchison County Raceway.
Marvin Griffith Jr. had jumped to the early lead and appeared to have the car to beat until contact with lapped traffic sent him to the rear of the field. Greg Keuhn took over the lead until other Brad Whitney made a move of his own to take over the point.
Keuhn charged back by Whitney as Christofferson arrived at the front. Christofferson and Keuhn swapped the lead back and forth in the closing laps with Christofferson picking up the feature win.
Keuhn finished a close second with Josh Steele a solid third. Week one winner Jim Powell Jr. was the big mover of the race, placing fourth, with Griffith recovering to finish fifth.
Jeremy Chambers worked his way through the pack and led the last three circuits in taking the Xtreme Motor Sports IMCA Modified victory.
Early leader Rodney Schweizer developed mechanical problems that resulted in an early end to his night. Tyson Lanfermann held the top spot until Clay Hale used the high line to perfection to take over the lead.
Hale set the fast pace until Chambers completed his charge through the pack. Hale, in a photo finish, placed second with Truman Asher third. Lanfermann ended in fourth with week one winner Steven Bowers Jr. rounding out the nights top five.