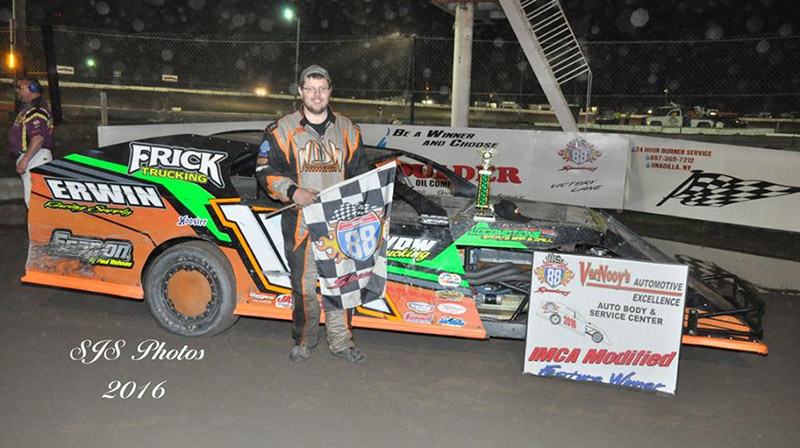 COBLESKILL, N.Y. – Will Ward made a name for himself in the Xtreme Motor Sports IMCA Modi­fied ranks last season, with a career-best eight feature wins and a spot on the starting grid for the Fast Shafts All-Star Invitational.
As work and weather permit, you'll see his name in results from IMCA events across New York this year.
"If they're holding an IMCA Modified race in the Northeast, we're going," said the Cobleskill clip­per, already the winner of four features, most recently on back-to-back nights May 12 at Outlaw Speedway and May 13 at I-88 Speedway.
"I like that the rules are going to be the same wherever I go. I can run here in New York, then go to Boone for Super Nationals and not have to change anything," he continued. "If I wanted to go to Arizona and race, I could do that, too."
Now in his fifth Modified season, Ward has spent his entire racing career in the IMCA division. He pi­loted a 16-year-old chassis as a rookie – his dad Billy had previously raced the same car – be­fore switching to newer Larry Shaw models.
Ward notched single wins in 2013 and 2014 before seeing more pieces of the racing puzzle come to­gether in 2015. He was a seven-time winner at Skyline Raceway and topped the rain-inter­rupted Empire State Series event completed at Afton in August.
"We got into some newer equipment. I got a 2013 car that didn't have as many races on it," Ward explained. "It's crazy how good the car got after we got together with some Shaw guys, Erwin Rac­ing Supply out of Beaver Dam, Va. I really have to credit them for helping us get to where we are setup-wise."
The service manager for a Peterbilt dealership in Albany, Ward will chase Dirt Works Eastern Re­gion points Fridays at I-88 and Saturdays at Skyline. Atomicwraps.com Empire State Series and odd race night dates such as the Thursday opener at Outlaw, which necessitated a 3-1/2 trip one way, will complete his schedule.
He doesn't have any interest in or the budget for big block racing.
"To me, a real Modified is what we're racing. I don't get a kick out of the big block modifieds with their high-cost engines. The money they spend is ridiculous," Ward said. "The IMCA class here in New York is full of guys who go to work on Monday and we're all friends."
In addition to his parents Billy and Debbie and brother Wyatt, Ward's crew includes fiancée Eliza­beth Burman, Ken True and Mike Butler.
His sponsors are WDW trucking, First Hauling and Locomotions Sports Bar & Grill, all of Co­bleskill; Frick Trucking of Selkirk; Snap-On Tools of Albany; and Erwin Racing Supply.