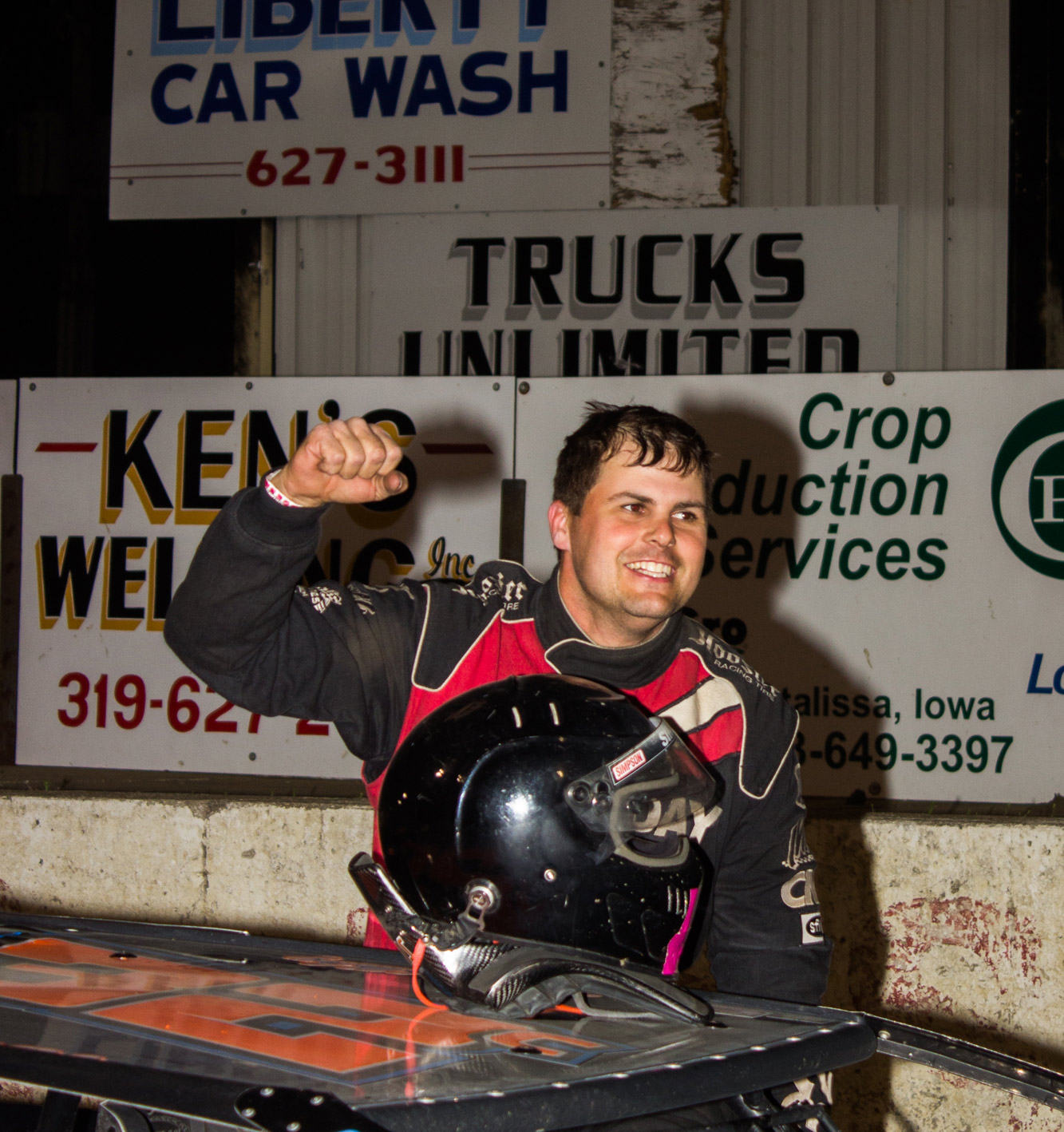 MUSCATINE, Iowa – Eighteen starts netted a pair of IMCA Late Model feature wins for Chad Hol­laday last season.
He equaled that total in just two nights out at always-tough West Liberty Raceway this spring.
From Muscatine, Holladay topped the season opener on April 23, then added the May 7 checkers to his collection.
"It really means a lot to be able to win at West Liberty," he said. "To finish in front of that caliber of driv­ers is really something. You've got to put your best foot forward there every night."
After lining up alongside Jeff Aikey and in front of Denny Eckrich on opening night, Holladay found something on the top side of the track and caught Rob Toland for the lead with 10 laps to go.
He drew the outside pole start for night two and passed Ron Boyse en route to his second win.
"I have a new crew chief, 'Big' Mike Dieckman, and he's been a big part of our success," said Hol­laday. "This is my first year in a new car, a Gheer'd Up Mastersbilt and Tyson has been great to work with. I own an engine shop with Jimmy Shepherd, Shepherd Engine Development, and that's been an important part of our program."
He'll be a regular on the Deery Brothers Summer Series circuit this summer. Holladay was fast from the get-go in the main event at Hamilton County Speedway, leading the first 14 laps before being sidelined with a broken fan blade.
"I'd grown up around the sport as a fan in the Dale Fischlein days at West Liberty," Holladay said. "I raced there for about seven years before taking a break to start a family and a business. My mother Cindy got me started racing and was my number one fan up to her death in September of 2014."
Holladay had started racing in the local bomber class. His first Late Model was a former Brian Birkhofer ride.
"I always liked the Late Models. It was a big step for us and the learning curve was huge," he said. "We tore up some equipment but we learned a lot. We've learned every week and we keep learning."
Along with his father Steve, wife Nikki and children Kaelyn, Anistan and Emmery, and Dieckman, Holladay's crew includes Dana Wells and Riley Wagman.
He is sponsored by Holladay Trucking, Honts Construction, Miracle Car Wash and Franzen Family Garage, all of Muscat­ine; Shepherd Engine Development of Solon; Ellsworth Trucking, Hokstra Masonry, Zaiser Paint­ing, Country Financial and Pas Vogel & Son Seed Company, all of Wilton; and Peterson Fluid Systems.