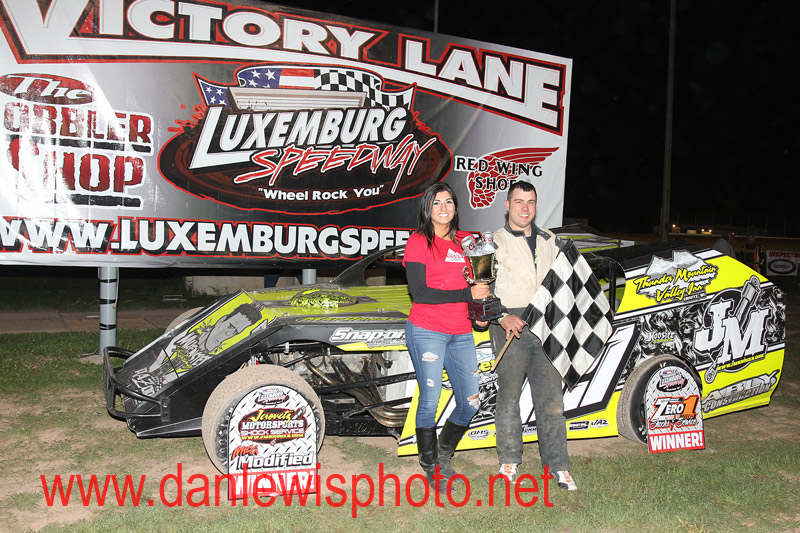 By Greg Aregoni
LUXEMBURG, Wis. (May 13) – On a night that had everyone huddling up to stay warm, Andy Kleczka stayed hot on the track and picked up the Xtreme Motor Sports IMCA Modified feature win at Luxemburg Speedway.
Kleczka started up front and never looked back. He put his right rear tire right on top of the track and pulled the field around the 1/3 mile. Kleczka's only concern was a lap three yellow but after the caution it was a Friday Fun night for Kleczka.
Kleczka went untouched the rest of the way and built a lead up to a straightaway in the eventual win. Sean Jerovetz made a run to second half way through the race but could never cut in to the lead. R.M. Van Pay finished third after a race-long duel with Brian Joski.
Tom Brumlic opened as the king of the castle in the IMCA Sunoco Stock Car showdown.  Brumlic had quick company from Troy Muench who charged from his 11th starting spot to the front of the field.  Muench made a three-wide pass for the lead on lap six and seemed to have his bases covered.
A couple cautions mid-race allowed Brandon Czarapata to find where his car worked best. Czarapata ran to the back bumper of Muench and with three to go got inside of the leader. Muench was forced to try to run the middle but Czarapata was quicker down low. Czarapata held Muench off in the final laps to take home the "W."  Rob Waechter finished third with Dave Bouche and Shawn Havel rounding out the top five.
Race Van Pay was way out front in the Karl Chevrolet Northern SportMod feature after a couple laps. Van Pay held court while the big dogs made their way to the front. Wyatt Block started in the 12th spot and had his racer hooked up everywhere on the track.
Block grabbed the lead halfway through the race and never looked back. He had a straightaway lead with five laps remaining and picked up the win. Lucas Lamberies finished second. Todd Weiss won a late race battle for third over Kelsy Hayes and Randy Lemieux Jr.