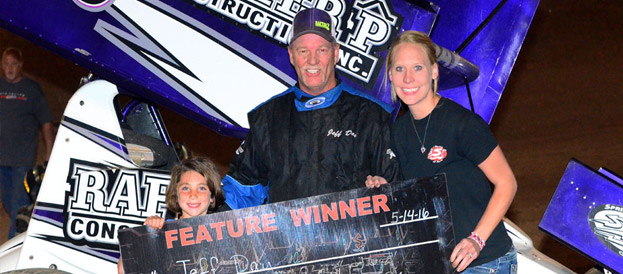 GREENWOOD, La. (May 14) – Jeff Day crossed the state line to race his way to victory lane in a second IMCA EMI RaceSaver Sprint Car tour Saturday night.
Day topped the Sprint Series of Texas feature at Louisiana's Boothill Speedway, outrunning Jason Howell to the checkers.
Day's son Michael, Dustin Woods and Ty Johnson completed the top five. The 25-lapper was interrupted by just a single caution and the frontrunners had to negotiate traffic much of the way.
Michael Day started on the pole, directly in front of his father, and led early. Howell came up to contend before Jeff Day opted for a higher line around the oval at Greenwood.
"Jason pretty much showed me the top in (turns) three and four," Day said. "Once I found the line we pretty much ran the race out and got the win."
"The track was slick and had a good cushion," added Day, also the winner of an Elite Non-Wing Series event this spring. "I was able to get through lapped traffic with slide jobs."
Feature results – 1. Jeff Day; 2. Jason Howell; 3. Michael Day; 4. Dustin Woods
; 5. Ty Johnson
; 6. Josh McCord
; 7. Johnny Brown
; 8. Richard Miller
; 9. Michelle Melton
; 10. Ryan Hall
; 11. Chase Parson
; 12. Butch David
; 13. Alan Myers
; 14. Charlie McDonald; 15. Tommy Hall; 16. Neil McCarl
; 17. Tyler Russel; 18. Ian Looper
; 19. Todd Bliss; 20. Chad Koch.