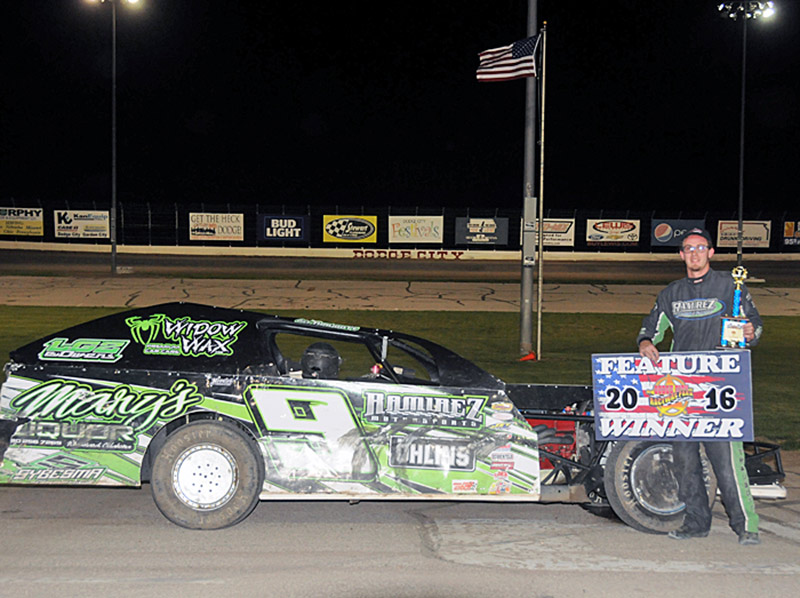 By Lonnie Wheatley
DODGE CITY, Kan. (May 7) – Cole Traugott picked off his second Xtreme Motor Sports IMCA Modified score of the year at Dodge City Raceway Park on Saturday, with first-time local winners of 2016 including Darren Hacker in the IMCA SportMods, Jason Rogers in the IMCA Sunoco Stock Cars and Matt O'Hair in the IMCA Sunoco Hobby Stocks.
Traugott raced by Arizona native Tanner Black on the top side three laps in and led the rest of the way in the 20-lapper and prevailed over a field of 25 entries. While Black had taken the initial lead from the pole, Traugott wasted little time rallying from the sixth starting into the lead.
Woodward, Okla., reached victory lane as well in the 20-lap IMCA SportMod feature with Hacker besting the 24-car field. After starting 10th, Hacker chased down early pacesetter Toby Witthuhn on the seventh round and utilized the top side the rest of the way to fend off middle run­ner Witthuhn and Mike Appel for the win.
In the 15-lap Stock Car feature, Rogers needed just two laps to chase down Michael Pepper for the point and paced the field the rest of the way for his first local win of the year. While Rogers cruised out front, Colorado's Angel Munoz picked off a handful of positions over the final circuits to capture runner-up honors.
The Hobby Stocks offered up a fourth different winner in as many events with Laverne, Okla.'s O'Hair racing into the lead on the fourth circuit en route to his first Dodge City triumph since Au­gust of last year.