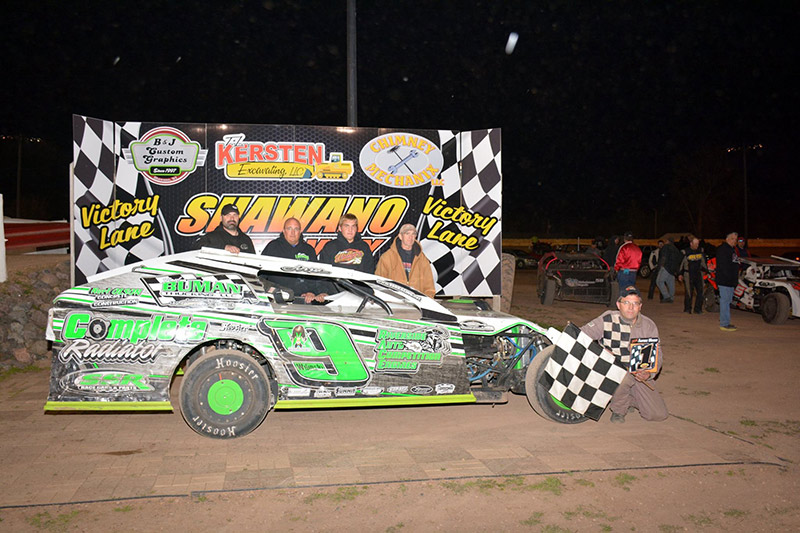 By Scott Owen
SHAWANO, Wis. (May 7) – Former track champions Jerry Wilinski, Dan Michonski, and Lucas Lamberies each scored their first wins of the season Saturday at Shawano Speedway.
Second row starter Chucky Forstner led the first two laps of the Xtreme Motor Sports IMCA Modi­fied feature before Jeremie Hedrick asserted himself with an outside pass.  Hedrick led through lap 12 when the caution flag flew.
On the next lap, Wilinski took the lead from Hedrick with an inside pass. Lance Arneson and Mar­cus Yarie joined Wilinski and Hedrick in the top four on lap 15. Yarie went three-wide with Arneson and Hedrick the next time around to grab second.
Yarie pressured Wilinski the rest of the way but Wilinski would not be denied the victory.  Yarie finished second, Arneson third, Forstner fourth and Hedrick fifth.
Michonski raced his way to second by the fourth circuit and set a course for leader Gary Kasperek.  Michonski went to the outside of Kasperek on lap eight to take the lead away as Travis Van Straten took over third.
Over the last half of the race, Michonski solidified his lead and went on to win his first feature of the year.
The Karl Chevrolet Northern SportMod feature saw Tyler Thiex lead the first three laps before spinning and handing the lead to Brock Saunders. On the restart, Saunders was immediately pressured by Jordan Bartz.
On lap eight, Lamberies passed Bartz to take second and then moved to the inside of Saunders on lap 11 and took the lead away.  A lap 17 caution bunched the field up and set up a three lap dash to the finish. Lamberies was able to hold off Wyatt Block and Saunders over the remainder of the race to score his first feature win of the year.