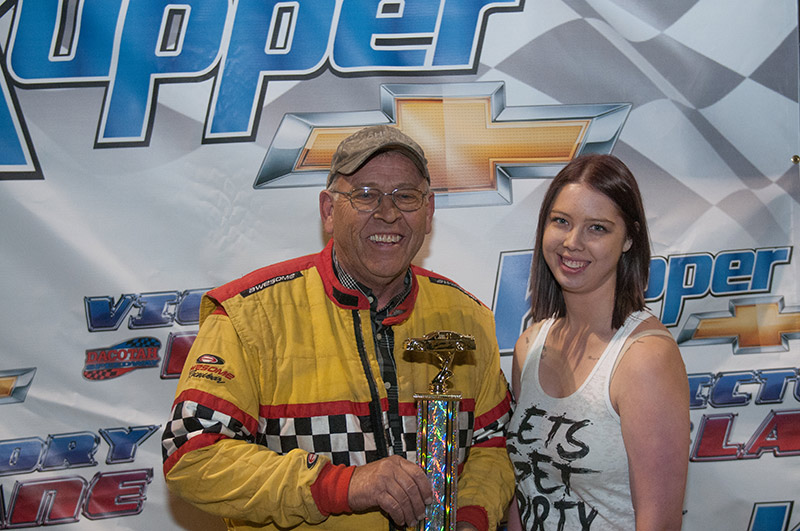 MANDAN, N.D. (May 6) – The green flag waved for the first time this season Friday at Dacotah Speedway and Marlyn Seidler made his first visit to the local victory lane since 2013 after the Xtreme Motor Sports IMCA Modified checkers flew.
Seidler and Drew Christianson started on the front row and Seidler quickly pulled away as Christian­son and Shawn Strand battled for second and Spencer Wilson quietly lurked in fourth.
With 10 laps to go, Wilson slipped by Strand for third before a caution regrouped the field. On the restart, Seidler pulled away from the field again while Wilson passed Christianson for second. A caution with eight to go reset the field once more but once again, Seidler pulled away.
Christianson challenged Wilson for second and they raced side by side with six laps to go. Wilson held off Christianson as Tracy Domagala raced door to door with Strand. Strand's car started to fade in the closing laps, as he lost fifth place to Hank Berry with three laps to go.
Domagala's strong charge to the front came up short behind Christianson and Wilson as Seidler led all 25 laps en route to the win.
Picking up where he left off last season, Jason Berg started on the pole for the Mach-1 Sport Com­pact feature. Berg, who won the last three IMCA Sport Compact features last season, pulled away quickly.
As Berg's lead continued to grow, Dylan Sandberg had his hands full with Josh Roehrich. They raced side-by-side until Roehrich took second with four laps to go. Berg quickly maneuvered around lapped traffic before taking the checkered flag. Berg led all 10 laps and dedicated his fea­ture victory to his friend who passed away earlier this year. Josh Roehrich finished second ahead of Dylan Sandberg, Chance Seelye and Alex Thompson.
Race fans packed the stands to see 117 drivers from all over North Dakota, Montana and even Wyoming battle. Fans also gave from the heart when they raised more than $1,400 for Levi Gart­ner, son of INEX Legend driver Joe Gartner, who is currently battling stage 4 neuroblastoma.