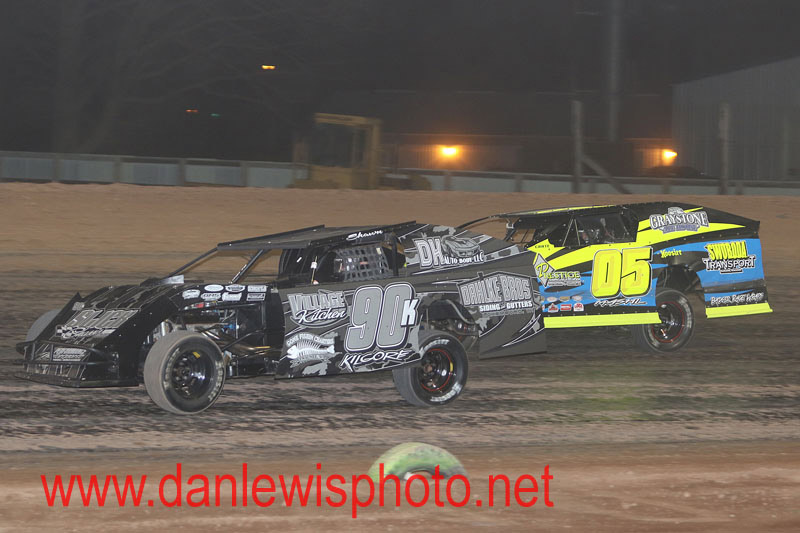 By Greg Aregoni
LUXEMBURG, Wis. (May 6) – One hundred and forty-five cars entered the pits at Luxemburg Speedway for the season opener Friday night.
Shawn Kilgore stalked his prey and eventually started the season where he left off in 2015, taking home top honors with an Xtreme Motor Sports IMCA Modified feature win.
Kilgore ran to the front and reached leader Luke Lemmens on lap 12, then went to the outside and grabbed the lead on the next lap. Lemmens was able to stay close for a couple of laps but in the end it was the Kilgore show.
Lemmens finished second with Brian Mullen third. Mike Mashl ran to fourth with Benji LaCrosse rounding out the top five. The race went caution free.
Larry Karcz Jr. led the opening two circuits of the IMCA Sunoco Stock Car Showdown but quickly became the target of Kyle Frederick, who grabbed the lead up top and stayed in charge until the lone caution on lap 13.
On the restart, John Heinz and Troy Muench came calling for the lead. A three-wide battle en­sued with Heinz down low, Muench in the middle and Frederick on top. Frederick used his momen­tum off the corners but Frederick kept everyone at bay late to pick up the win. Dave Bouche drove a chess match of a race and picked up second from the sixth row. Muench beat Heinz to the line for third.
J.J. Anderson conquered the Karl Chevrolet Northern SportMods, setting his racer on cruise con­trol and only encountering lapped traffic the rest of the way. He picked up the win by a half lap in the caution-free race.
Jacob Zellner prevailed in the race for second over Hunter Parsons.
Car counts included 39 Stock Cars, 35 Modifieds and 33 Northern SportMods.