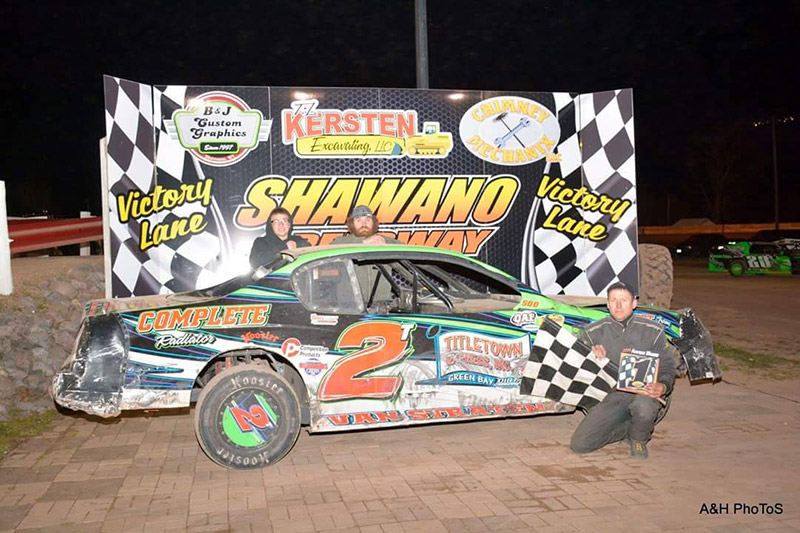 By Scott Owen
SHAWANO, Wis. (April 30) – A hardy crowd turned out to see 132 competitors duke it out on the venerable Shawano Speedway half mile Saturday night. Brian Mullen and Kevin Bethke each won their first local feature of the year while Travis Van Straten won his second in a row.
Kevin Feck took off like a rocket at the start of the Xtreme Motor Sports IMCA Modified feature while venerable Jerry Muenster moved into second. Eighth starter Mullen worked his way up to third by lap five, before a scary incident on the front stretch slowed the pace and eliminated numer­ous cars from the race.
Once the race went back to green, Mullen passed Muenster and set his sights on Feck. Mullen got to the inside of Feck on lap eight to take the lead away. Feck soon pulled to the pits, moving Lance Arneson to second. Arneson, who had started 14th, pestered the leader for the duration but Mul­len was not to be denied on his way to victory lane. Matt Oreskovich finished third.
Defending national champion Van Straten passed Mike Schmidt and Aaron Stolp to get to se­cond, then lined up right behind two-time national king Brandon Czarapata following a caution 13 laps into the IMCA Sunoco Stock Car fray.
Czarapata and Van Straten continued to race side by side for the lead until lap 17 when Van Straten finally pulled ahead for the lead. Czarapata tried multiple lines to get past Van Straten but could not muster a pass for the lead.
Brianna Ambroziak led the first nine laps of the Karl Chevrolet Northern SportMod feature before the 11th starting Bethke made the pass for the lead. Bethke led the remainder of the race that ran green to checkered.
Jordan Barkholtz made a late-race charge to second. Zach McKinnon took third.