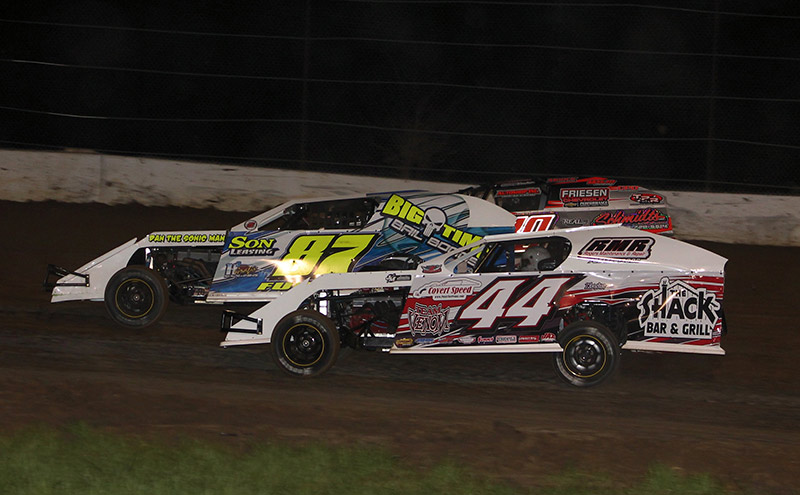 TOPEKA, Kan. (May 1) – On a night that was less than perfect, one of the best features of the early season occurred Sunday night at the 2nd Big Time Bail Bonds Sunday Night Showdown at Heartland Park Topeka.
In the BillsBuilt Race Cars IMCA Modified feature it was a full-blown battle. Jared Rogers jumped out to the lead and would hold on for a majority of the laps but a yellow changed the complexion of the race.
Following the restart, Jordan Grabouski took a slim lead over Rogers going into the first turn late in the race. Rogers fought back hard on the inside, but as the two exited turn two Darron Fuqua threaded the needle with a pass for the lead in the middle and it stuck.
Once Fuqua got to the front of the pack he wouldn't be denied. The multi-time track champion at Heartland Park Topeka took home win number one under the IMCA banner.
Last week, Dustin Thulin pulled out for the Karl Chevrolet Northern SportMod feature only to have battery issues take him out of the feature before it ever started. This week was a little different.
Starting from the pole, Thulin, also a former champion at Heartland Park Topeka, made the most of his good fortune on Sunday night. He jumped out to a lead he'd never relinquish and wired the
field.
Shannon Anderson of Des Moines, Iowa, made a five-hour journey to race at HPT pay off, slicing and dicing his way to the IMCA Sunoco Hobby Stock lead in a short amount of time.
The five-time national champion put a stranglehold on the top spot.
The Cars 4 Less IMCA Stock Car division continues to surprise the Heartland Park Staff with its turnout. The division had a total of 27 cars checked in, necessitating a 'B' feature.
Another long two ended in victory lane as Casey Woken traveled four hours to take top honors in that class.
A whopping total of 4.5 inches of rain fell at the track during the week and it was anyone's guess if Sunday night's event was going to get in. The track prep crew was ready for the task and they got the job done.