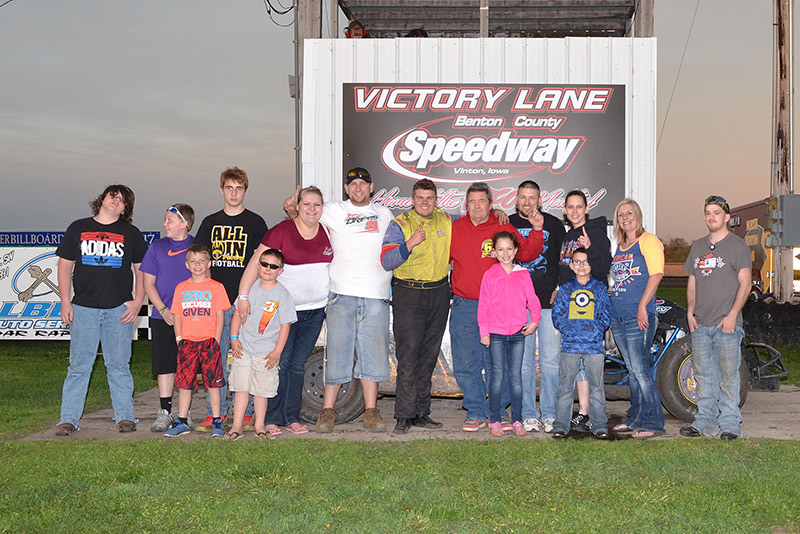 VINTON, Iowa (April 24) – Tom Berry Jr. was impressed by the quality of drivers he raced with each and every night out this season, in his first 11 Xtreme Motor Sports IMCA Modified starts in Nebraska and Iowa.
On Sunday, the Medford, Ore., native impressed with his first Hawkeye State win at Benton County Speedway.
After starting second, Berry worked his way out front of a star-filled field and took the checkers with J.D. Auringer, Scott Hogan, Ronn Lauritzen, Patrick Flannagan and Darin Duffy scored in that order behind him.
"The car got better and we hit our marks," said Berry, who found the best bite on the higher line in turns three and four. "We built a new car and once we get this thing figured out, it's going to be a rocket ship."
He chatted with Auringer, a former track champion, for half an hour in the pits at Vinton after the races.
"I was really impressed with how he drove. It was about the best I'd ever seen," Berry said. "There are so many good drivers here. Everybody is fast."
Part of the infusion of West Coast talent to the Midwest – Arizona speedsters Ricky Thornton Jr. and Tim Ward will also race in and around Iowa this summer – Berry is living in Boone and work­ing at Toby Kruse's Marshalltown Speedway during the week.
He's planning to race Fridays at Marshalltown, Saturdays at Hamilton County Speedway and Sun­days at Benton County, with occasional midweek trips to Southern Iowa Speedway on Wednes­days and Kossuth County Speedway on Thursdays and as many specials as he can fit into his schedule.
"I've never run for points before. That's something we're going to play by ear," said Berry. "We've already been able to run more specials (including two nights of Spring Nationals at Beatrice and the last three Frostbuster Week events) than we would have all year on the West Coast."
A third trip to the IMCA Speedway Motors Super Nationals fueled by Casey's is on Berry's sched­ule in September. He'll continue sharpening his skills against the locals until returning home to Oregon later in the fall.