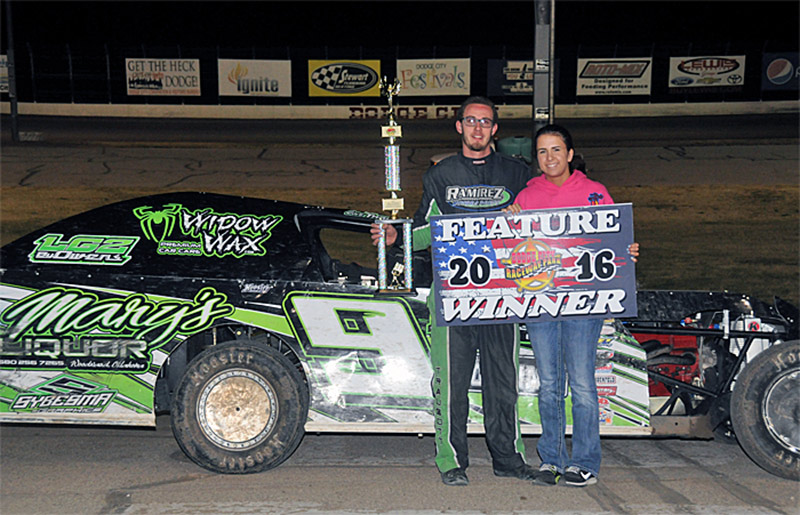 By Lonnie Wheatley
DODGE CITY, Kan. (April 9) – Cole Traugott emerged atop a hard-fought 30-lap Xtreme Motor Sports IMCA Modified feature event to take the $1,200 winner's share in Saturday's fourth annual Modified Stampede at Dodge City Raceway Park.
The Modified Stampede lived up to all the hype and then some, with the new Fast Shafts All-Star Invitational ballot qualifier escaping contact with past IMCA national champion David Murray Jr. and then recapturing the lead from Nick Link in the closing circuits to capture his first Dodge City win since June of last year.
"It got a little rougher than I had hoped for, but a win is a win," Traugott commented.
After winning his heat race, Traugott started the feature from the front outside when original front row starter Cody Gearhart couldn't make the call for the main event.
Traugott gunned into the early lead and paced the early rounds as Murray moved into second by the third lap. Traugott paced the field comfortably ahead of Murray and Clay Sellard until a caution flew after a dozen laps, negating his half straightaway advantage.
Gunning for a third Modified Stampede title in four years, Murray turned up the heat on the leader on the restart and slipped underneath exiting turn two to take command on the 14th round. Traugott countered, returning the favor by slipping underneath Murray exiting turn two on the following circuit.
The duo raced side-by-side into turn three with contact made that resulted in Murray spinning to the top side and collecting third-runner Sellard in the process. Sellard was done while Murray returned at the tail of the remaining 15 cars after hasty repairs.
Back out front, the race was far from secure for Traugott as Nick Link surged forward and then battled into the lead on the 19th round.  But when a caution flew with seven laps remaining, Traugott moved to the high side on the restart to recapture the lead.
Traugott paced the field the final six laps to take the checkered flag ahead of Link as Murray raced back through the field to round out the podium. After winning the 'B' feature, Mike Lunow worked the high side of the track to race from 15th to fourth with Jesse Richter rounding out the top five.
Modified feature results – 1. Cole Traugott; 2. Nick Link; 3. David Murray Jr.; 4. Mike Lunow; 5. Jesse Richter; 6. Ryan Heger; 7. Joel Lane; 8. Dale Wanger; 9. Jesse Smith; 10. Kale Beavers; 11. Kevin Gray; 12. Randle McRoberts; 13. Danton O'Dell; 14. Kyle Rohleder; 15. William Nusser; 16. Clay Sellard; 17. Jack Kirchoff; 18. Brendon Gemmill; 19. Grant Florence; 20. Cody Gearhart.